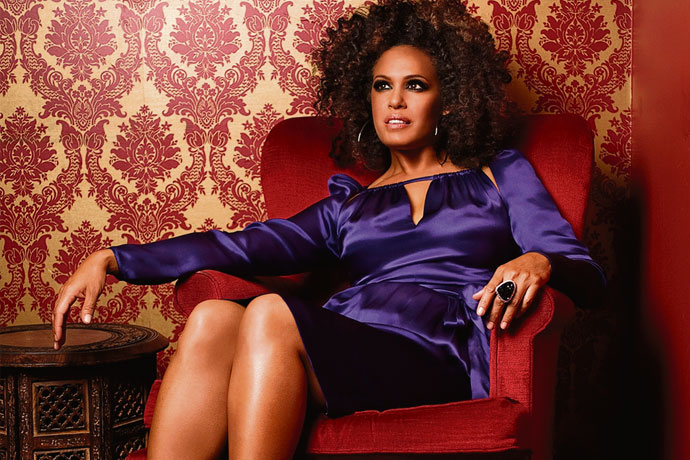 There is something vastly different about the Christine Anu of today compared with the young woman I interviewed in the mid '90s on the back of her hit song 'My Island Home'.
Whether it's maturity, motherhood, experience, or the fact she's getting a good dose of vitamin D nowadays, Christine has grown.
"I had a blood test recently and it came back that I was deficient in vitamin D," Christine said.
"Apparently it's a common deficiency because we're all in offices, we walk out of the house, get in the car, drive to a car park, get out and sit in an office all day.
"I'm getting back to the outdoors and loving it."
For the uninitiated, Christine is arguably Australia's most successful indigenous performer and one of Australia's most popular recording artists – backed by an award-winning repertoire spanning across music, theatre, dance, film, television and children's entertainment.
Her illustrious career spanning two decades has involved platinum albums, sell-out musicals, Hollywood blockbusters and high-profile collaborations with showbiz and musical luminaries such as Baz Luhrmann, Paul Kelly and David Atkins.
But there is a renewed glow about Christine. She looks fit. She sounds confident. And she's ready to open some eyes with her latest show in honour of the undisputed queen of soul, Aretha Franklin.
There have been some big changes in Christine's outlook in the past few years. She's taking risks and putting herself out there.
The day after this interview she was going to dive with the sharks at Manly's Ocean World.
Why?
"Why not?" she said.
"I did a show called 'Excess Baggage' (a celebrity weight loss television series) and discovered I'd stopped living my life. Not just getting outdoors. I mean, I really stopped living my life, period.
"I got so much stimulation from all directions that I realised that I needed a bit of renovation in my headspace so that I could continue to provide myself interest, to look forward to something.
"I've now jumped out of a plane, abseiled 140 metres down a cliff, been caving and now diving with the sharks."
Christine said 'Excess Baggage' made her realise that her creativity was about to disappear and she needed to do something before it did.
"I just didn't know when I stopped living my life, for me," she said.
"Getting the passion back in my life was important. How you feel inside affects creativity or lack thereof. Not feeling inspired affected my work and it was stifling my creative side or my want.
"I had to keep my music vital and alive. I just needed to reshape my thinking and from that moment I started to see massive changes in myself.
"I was still a piece of clay that I could mould to whatever shape I wanted. I was so happy that I wasn't broke and unfixable.
"As soon as I started to feel that, it was, 'right, get me out, get me doing something'."
As part of her invigoration, Christine has been spending time with her children, Kuiam and Zipporah, and learning a couple of things from them too.
"My manager's trying to coach me through social media and be hip and up on it," Christine said.
"Thankfully, I've got my two children as tutors, because without them I'd be totally lost."
'My Island Home' may have propelled Christine Anu into the annals of Australian music history, but Christine is so much more than that. She is also a highly successful businesswoman.
Her business, Stylin Up Entertainment, has developed the brands Chrissy's Island Family, Ladies Of Jazz, and Women Of Soul.
Away from the recording studio, Christine has carved out a notable stage, TV and film career with a staple of widely acclaimed appearances and production headliners including 'The Sapphires', 'Little Shop Of Horrors', 'Dating The Enemy', 'Matrix Reloaded', 'Moulin Rouge', 'Wildside', 'East West 101', 'The Alice', 'Play School', 'Rainbow's End' and 'Rent'.
Now, Christine's focus is on one of her biggest musical influences, Aretha Franklin.
In her new tour, 'Rewind – The Aretha Franklin Songbook', Christine conjures soulful interpretations of Franklin's most memorable songs, including 'Respect', 'A Natural Woman', 'Chain of Fools' and 'Today I Sing the Blues'. Coincidentally, Christine's tour coincides with Franklin's 70th birthday year.
"Nobody says it or sings it better than Aretha Franklin," she said.
"I truly believe she is the greatest soul singer of our time."
Those people who have followed Christine's career may be in for a bit of a shock, too.
"My sound is completely different," she said. "I have found something inside me that even I didn't realise existed. There is just something about Aretha's music that makes you want to tell a story, from the pit of your stomach. I think people will be surprised."
Christine will be joined on the tour by Women of Soul, starring Miss Min and Evie J Willie.