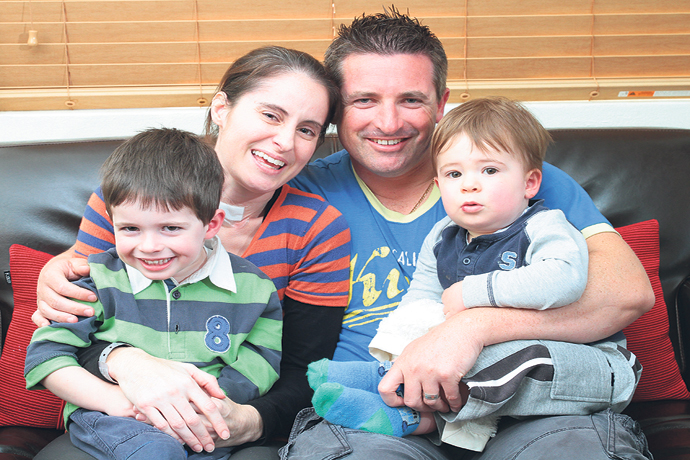 When Kirsten Levy first woke from a medically induced coma earlier this year she looked at a family photo on her bedside table.

She could identify her husband, Chris, and her son Zac, 3, but she couldn't place the other young boy in the photo – it was her one-year-old son, Jett.
"Kirsten has no recollection of being pregnant with Jett or any memory of him," Mr Levy said. "We had our two year wedding anniversary in April, but she doesn't remember our actual wedding either."
On Christmas Day last year, the life of Mrs Levy, 36, took a turn for the worse when she collapsed and began having seizures.
She was rushed to Nepean Hospital and placed in a medically induced coma, but it took doctors seven weeks to eventually diagnose her with an extremely rare autoimmune disease.
"At first I didn't want the boys to see Kirsten with the tubes coming out of her… but Zac said he wanted to see her, which was quite confronting for him," Mr Levy said.
"Some days he would give her a kiss on the hand, but he didn't want to go near her face because of the tubes.
"Every night before he goes to bed, he will kiss her photo and say 'I love you mummy, get well soon'."
The past few months have been a constant battle for the Werrington family. As a result of her illness, Mrs Levy needs to learn to walk, talk and eat again, as well as try to regain pieces of the last two to three years of her memory.
"I've been at hospital pretty much every day since Christmas," Mr Levy said.
"I haven't given up hope and she hasn't either."
Read the full story in Friday's print edition of The Western Weekender