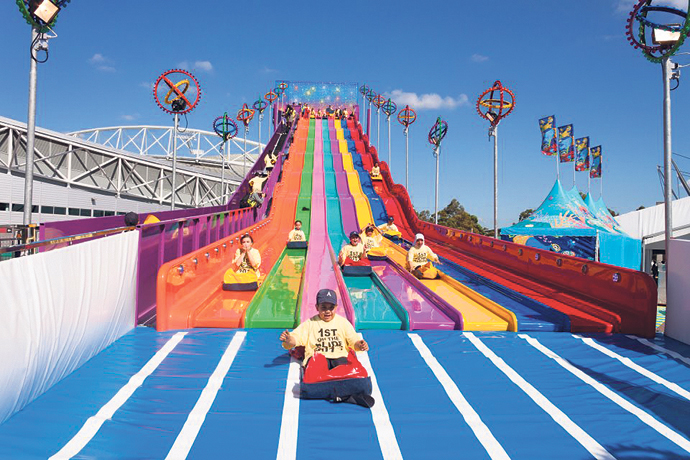 Sydney's Royal Easter Show is one of this city's most-loved annual events, a sentimental favourite with kids and adults alike.

But did you know that the show, which pumps $500 million into the state's economy, is one of the top 10 of its kind in the world and attracts thousands of international visitors each year, many from China and South East Asia?
Our reporter, Louise Bourke, was given the difficult task of heading to this year's show, touted as the biggest and best yet, to see what's on offer…
Rides
Gentle, fast, headache-inducing or just plain fun – there are rides for everyone at this year's show. But really, you haven't done the rides properly if you don't feel wretchedly sick afterwards – and there are plenty to help you achieve this.
The grand old lady of rides – the Super Slide – is back with a number of improvements including a moving walkway and new, comfier mats (older showgoers, such as this reporter, will remember the old brown hessian sacks of yesteryear).
Promised to us as the "speediest, slipperiest fun you've had all year" by ride officials, the improved Super Slide is not far off. This year you can also ride the slide at night while grooving to a disco light show.
Animals
The animal pavilions are the beating heart of the agricultural show.
Thousands of sheep, horses, cattle, dogs and alpacas are in residence with their owners in the hope of winning a coveted blue ribbon. The big Hereford bulls and Clydesdale horses are worth a stop-in, and for the cuteness factor take a walk over to the domestic animals.
The Park
The Park is a new place to chill-out and is bursting with free activities and entertainment for all ages.
Those wanting to sit and relax in between events can take in a range of performances and events.
Nearby, little ones can get involved with Ashton Circus Skills Workshops which runs several times daily, where they can learn to juggle and swing a hula hoop and get rid of some of their excess energy.
Food and wine
Dagwood dogs and hot chips, those enduring show favourites, are still readily available, although this year showgoers have the option of dining at the Food and Wine Garden where vendors are serving up some of NSW's best produce and award-winning wines. If you'd rather fine dining on the run, check out the Oyster Bar in the Woolworths Fresh Food Dome.
For an afternoon pick-me-up, we can recommend the scones and tea at the Country Women's Association tent – it'll also give you a chance to salivate over the incredible cake decorating competition finalists.
Events
The woodchop has become synonymous with the Easter Show, as it's the only show in Australia that hosts the world championship events. At the woodchop arena, you'll be treated to a high-class display of machismo and brute strength as competitors from around the world vie for titles in Underhand, Standing Block, Single-Handed Sawing and Treefelling categories.
Over in the main stage, where there's an abundance of action throughout the day and into the night.
Showbags
Showbags are a uniquely Australian invention and don't we just love them. There are over 100 different bags to choose from this year. Along with traditional favourites like Bertie Beetle and Hubba Bubba, this year you can pick up a Glee!, Dora the Explorer or MasterChef showbag, depending on your taste in entertainment.