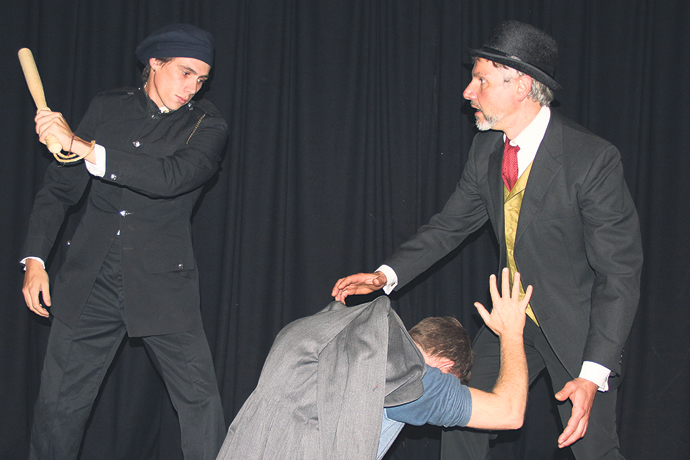 One of the world's most incredible stories of a man with severe deformities paraded on public display will come to life when the Glenbrook Community Theatre performs 'The Elephant Man'.

Disfigured beyond belief by a disorder that defies diagnosis, John Merrick (performed by local actor Brad Teodoruk) is forced to spend his formative years being carted about London as the star attraction of a travelling freak show where relentless crowds pay tuppence to gawp and jeer at him.
Although he dreams of escaping the torment of the freak-show circuit to lead a 'normal' life like others, John is an orphan with little hope of independent survival outside the confines of the big top and so resigns himself to life as 'The Elephant Man'.
Thankfully fate intervenes when money-hungry ringmaster Ross turns John out onto the street where he's discovered by famous young surgeon Frederick Treves (performed by Costa Karagounis).
Dr Treves admits The Elephant Man to a London hospital for observation. There John fast becomes the urbane and witty favourite of high society, a far stretch from his former life.
But will John's dream to become a man like others ever come true?
A poignant tale of hope, courage, friendship, love and longing, The Glenbrook Players' adaptation of Bernard Pomerance's Tony Award-winning play holds a valuable message about the nature of humanity and the capacity of the human spirit.
In actual fact, the story of John Merrick as 'The Elephant Man' was true.
John Merrick was an English man who began to develop abnormally during the first few years of his life.
His skin appeared thick and lumpy, he developed an enlargement of his lips and a bony lump grew on his forehead.
Not only was John's face an unpretty sight but his arms and both feet became enlarged and at some point during his childhood he fell and damaged his hip, resulting in permanent lameness.
The story of 'The Elephant Man' has not only been very successful on the theatre stage but in 1980 a feature film about the life of John Merrick hit the screens.
The movie starring John Hurt and Anthony Hopkins was nominated for an incredible eight Academy Awards including 'Best Picture', 'Best Director' and 'Best Actor' at the 1981 ceremony.
The local production of 'The Elephant Man' will be held at the Glenbrook Community Theatre over the first two weekends in May on the following dates: Friday, May 4 at 8pm, Saturday, May 5 at 2pm and 8pm, Friday, May 11 at 8pm, Saturday, May 12 at 2pm and 8pm. Tickets start at $22.
To book or for more information call 4739 1110 or visit www.glenbrookplayers.com.au.