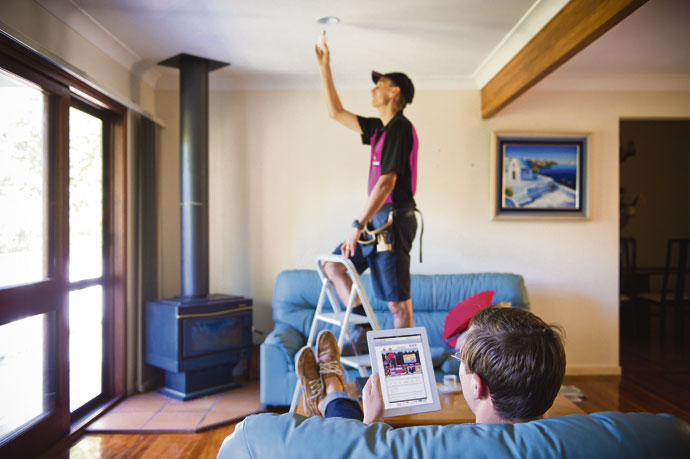 Three quarters of Australian women believe men are less handy today than 50 years ago, according to a Hire A Hubby survey.
The survey, which sampled 500 women aged between 25 and 65, found that men struggle most getting jobs in the backyard completed, with painting coming a close second, followed by minor repairs around the house.
Now Glenmore Park Hire A Hubby franchisee, Scott Wilkinson, hopes to help locals with their unruly backyards after yard maintenance topped the list of unfinished household jobs.
More than 70 per cent of survey respondents said the death of the Aussie handyman was due to "the rise of technology based careers over trades", with plain old "laziness" being the next most popular answer.
Mr Wilkinson said the results of the survey reflected what he saw in Glenmore Park every day.
"Unlike in years past when men might have been unhappy about another bloke turning up to do jobs around the house, our survey showed most male partners today are just happy to see the job completed," he said.
"Only 11 per cent of women indicated their partner was resentful when a handyman was called in."
The survey also found it was the simplest jobs that were often overdue around the house.
"When asked what property maintenance job people most wanted looked at in the next 12 months, most respondents said general property maintenance, which included things like fixing a towel rack or a flyscreen, so very minor DIY work," Mr Wilkinson said.
"It's interesting to see these little jobs coming in ahead of the big projects like tiling, paving, roof work and other renovations."
Mr Wilkinson said some of the results of the survey should be worrying for Glenmore Park home owners.
"One of the most surprising things to come out of the survey was that a third of people were waiting up to a year before getting some of these jobs done around the house," he said.
"Waiting this long can turn simple jobs into very serious ones.
"So it pays to have your property maintenance jobs done when you notice them."