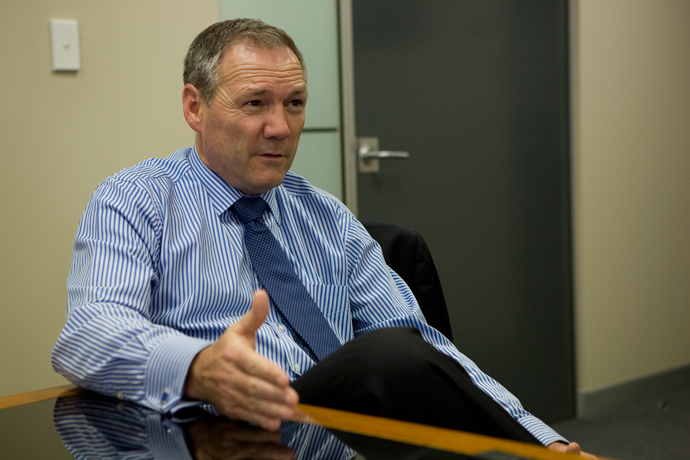 He has accepted one of the Penrith region's toughest and most demanding jobs, but thanks to a billion-dollar plan in his pocket and a passion for the area he grew up in, Warren Wilson is hoping it also becomes one of the most rewarding.
The new Chief Executive Officer of Panthers is a straight talker, admits he is "hard but fair" and says Panthers will return to the powerful force it once was within a decade.
"We want to return to being the powerhouse, and to being number one in the industry," he said.
"We've a significant debt that we have to deal with and we've got plans to deal with that."
Mr Wilson admits that the plan involves selling off some of its other club sites across the State.
"There will definitely be rationalisation," he said.
"There's no way in the short term or even in the medium term that the club can trade its way out of debt.
"We've got some resolutions going up to the AGM at the end of March to declare all of the properties as being non-core which will give us the flexibility of being able to divest clubs."
Mr Wilson said with the divestment of a number of clubs, the balance sheet at Panthers looks "drastically different… instantly".
Panthers is currently waiting on Penrith City Council approval to begin the biggest overhaul in the Mulgoa Road site's history, which will re-define what Panthers is all about.
"It will lead us to a billion dollars-plus of work in the next 10 years on this precinct," Mr Wilson said.
"It'll be a drastic transformation… it will have commercial buildings, aged care, residential, multi-use arenas, large DFO style shopping centres… it's a village in itself out here."
Mr Wilson, who grew up in St Marys, said he was in the new job for the long term.
"I think this is pretty exciting, that's why I decided to join the group," he said.
"To sit back in five or 10 years time and look back and say 'that's where we started and this is where we finished' will be pretty satisfying and I've tried to do that in my career… I can look back on those jobs at Sky Channel and TAB with very fond memories and feel that we left it in much better shape than when we started."
Mr Wilson said he looked forward to the day, perhaps in 2022, when "the last hard hat leaves the site" and the re-development is complete.
In the meantime, he admitted that a "back to basics" approach is generally always a winner.
"You go back to the basics and you'll probably figure it out," he said.
"Anyone who has got themselves into a bit of trouble has usually got away from the basics."
Panthers lost $9.5 million last year. The Group's debt is about seven times that amount. Warren Wilson has a massive job on his hands.
Read more in this Friday's print edition and in the edition of March 16