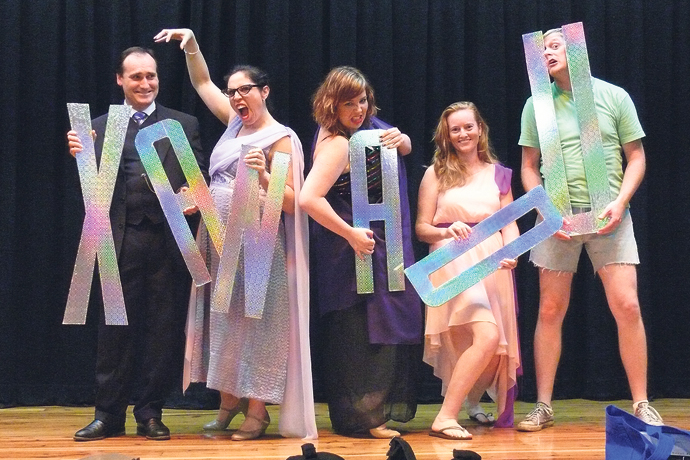 It is the movie that Olivia Newton John made famous, and now 'Xanadu' is about to hit the stage at the Q Theatre.
The Penrith Musical Comedy Company production, which opens tonight (Friday, February 10) is set to wow audiences who loved the film, as well as those who haven't had the pleasure of watching it.
Penrith Musical Comedy Company President, Grant Jones, said it's an honour for the local area to host an amateur premiere of this kind.
"'Xanadu' is a popular musical and has gained almost cult status amongst many musical theatre fans," he said.
"It's really great for Penrith to have secured it and we really need the locals to come out and support us over the next two weeks."
'Xanadu' follows the journey of a magical and beautiful Greek muse, Kira, who descends from the heavens of Mt Olympus to Venice Beach, California in 1980 on a quest to inspire a struggling artist, Sonny, to achieve the greatest artistic creation of all time – the first Roller Disco! But when Kira falls into forbidden love with the mortal Sonny, her jealous sisters take advantage of the situation and chaos abounds.
This hilarious roller-skating musical adventure about following your dreams despite the limitations others set for you, rolls along to the original hit score composed by pop-rock legends Jeff Lynne and John Farrar.
Songs that will have you grooving in your seats at the show include 'Magic', 'All Over The World', 'Suddenly', 'I'm Alive', 'Evil Woman', 'Have You Never Been Mellow' and of course the huge hit 'Xanadu'.
This high-energy musical is also based on the '80s cult classic movie of the same name, which starred Olivia Newton-John and Gene Kelly.
'Xanadu' is hilarity on wheels for adults, children and anyone who has ever wanted to feel inspired.
One of Broadway's master storytellers, Douglas Carter Beane, weaves a moving, electrifying tale of endless fun that will keep you in stitches, while the original, legendary chart-topping tunes lift you out of your seat.
You will want to keep the music in your head and 'Xanadu' in your heart, forever.
The musical also features an exceptional lead cast that includes Sally Elphick, David Tucker, Rachael Thompson, Grace Lizzio and Troy Lennon.
They are supported by an experienced ensemble including Rachel Crane, Caroline Vitols, Cameron Forwood, Justin Chester, Lyndall Green, Brenden Neaton, Blain Kapea, Renee Winter, Gemma Pilley, Manee Langford and Cameron Lewis.
"I am so proud of the cast we have assembled," Mr Jones said.
"They work tirelessly in preparation for the show, despite holding down busy lives, and the result is something everyone in the area should be proud of."
To add to the whole 'Xanadu' experience, make sure you arrive dressed in your best or tackiest '80s outfits and buy your glow stick accessories to have fun with during the show.
After the performance, everyone's invited to join the cast at the bar for a drink and some classic '80s tunes.
"We want to make it a real experience for everyone who comes out to see the show," Mr Jones said.
"Too often you get to the end of the show on a high, and there's nothing to do. That won't be the case at the Q over the next few weeks."
The Penrith Musical Comedy Company has, in recent years, developed a stunning reputation for producing great musical theatre at a local level.
"You need to look at it from a local level, not compare it with the big shows with multi-million dollar budgets," Mr Jones said.
"What we do, we do for love. For the love of performing, and for the love of getting shows like 'Xanadu' out to the people.
"We all have a passion for musical theatre, we all love performing and it's just a great buzz to be around people like that."
Musicals like 'Xanadu' are always popular because they bring back so many memories.
"People love to re-live great periods in their life and the '80s is something everybody loved, even if they won't always admit it," Mr Jones said.
"It's why a show like 'Grease' will always be popular. It's about the memories and about people enjoying and celebrating their past."
The show runs over two weekends and Mr Jones is confident of big crowds.
"Audiences really love our work and they will not be disappointed with this show," he said.
"This is a talented local cast and a real opportunity for people to get out there and enjoy local talent and support a local venue and a local company.
"We really want to see as many local people here because we are just so proud of the show and of this company."
'Xanadu' premieres at the Q Theatre of the Joan Sutherland Performing Arts Centre on Friday, February 10 at 8pm.
There will be further shows on Saturday, February 11 at 2pm and 8pm; Friday, February 17 at 8pm; and Saturday, February 18 at 2pm and 8pm.
Tickets are $30 for adults, $25 for concessions, $17 for children, $85 for families and large group discounts are also available.
To book or for more information call 4723 7600 or visit www.jspac.com.au.
So get your roller skates on, dust of your '80s gear and get out to the Q Theatre this weekend to celebrate the musical fun of 'Xanadu'.