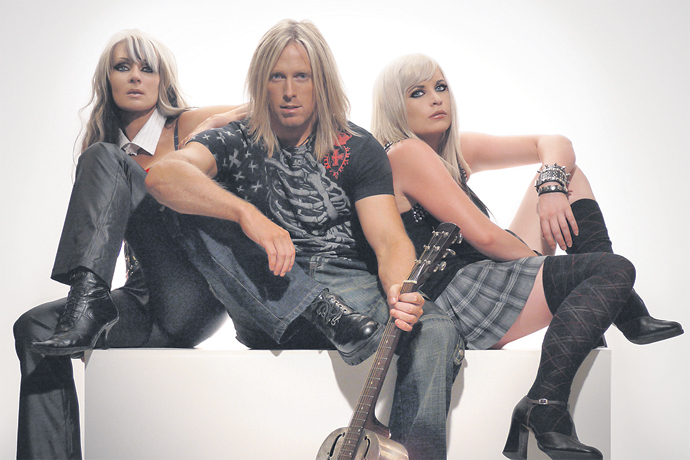 Touring festival favourites The Adam Hole and Marji Curran Band (AHMC Band) have been getting audiences stirred up all over Australia and beyond with their high energy, foot stomping roots, blues and rock.
The talented trio are making their way to the Fitzroy Hotel in Windsor on Saturday, January 28 for a night of hot raunchy slide, racing acoustic guitar and powerful soaring vocals through the percussive driving beats.
The only male in the group, Adam Hole, plays slide guitar like a demon possessed and belts out originals and his own unique versions of some classic old blues songs with a vengeance.
Adam's vocals and work on the slide guitar gives a real and raw gusty sound, complete with foot stomping grooves that capture the audience right away.
Marji Curran's songs are powerful, passionate and heartfelt, and are delivered with a voice that gets down and dirty one minute and then has you soaring like an angel the next. Drums and bass anchor those harmonies into a bright big sound.
Marji's exceptional song writing, distinct vocals and guitar playing, combined with the musical talents of one of Australia's hottest slide guitarists Adam Hole, bass framed by Doug Curry and beat laid down by Lighting Will Pippen leave audiences wanting more after every show.
AHMC Band is a fusion of different genres and has created a new sound of their own which is refreshingly different.
They've been described as: "It's Robert Johnson, meets Jimi Hendrix, meets Slash – who together have run off with Janis Joplin and Courtney Love".
Since forming eight years ago, AHMC Band have gone from strength to strength.
Returning from sell out performances at The Bay of Islands Jazz and Blues Festival in New Zealand, the Gympie Muster in Queensland, touring in Tasmania, Western Australia and the east coast of Australia, they blow audiences away with their unique and original sound at music festivals across the country.
Over the last few years, Adam and Marji have shared the same bill and played alongside some of Australia's top artists including Jeff Lang, Angry Anderson, Stevie Wright and Jenny Morris just to name a few.
The AHMC Band deliver songs with a powerful edge and an engaging stage chemistry that is luring crowds from everywhere and you should definitely not miss them!
The Adam Hole and Marji Curran Band light up the Fitzroy Hotel stage on Saturday, January 28 at 8.30pm.
This unbelievable gig is free.
For more information call 4577 3396 or visit www.fitzroyhotel.com.au.