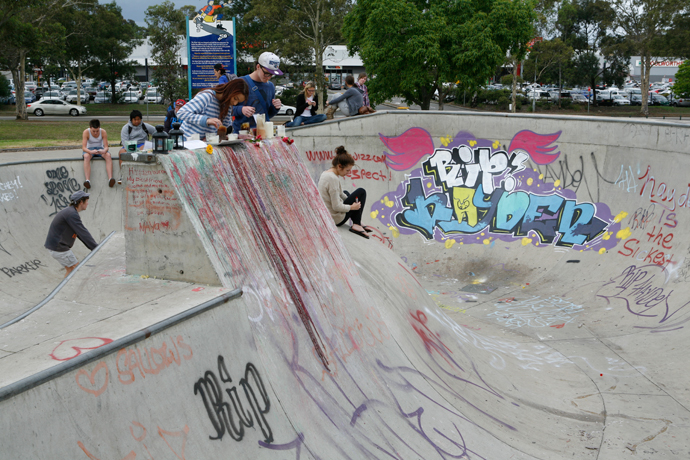 Penrith City Council has temporarily closed St Clair Skate Park to skaters for reasons of safety, following the gathering of people to mourn Hayden Burnes' death.
The skate park perimeter has been temporarily fenced, but access remains to the graffiti tributes.
"Penrith City Council extends its sympathies to Hayden's family and friends," Council said in a statement.
"Council will leave the graffiti tributes for the time being as it recognises that it expresses heartfelt grief from friends.
"However, Council's primary responsibility is for the safety of its residents and for that reason the park has been temporarily closed to skaters."
The area's young people are encouraged to contact Council to discuss what may be done to have a more permanent tribute to Hayden.
It only took hours for local teenagers to create a constant reminder of 15-year-old Hayden Burnes.
The teenager died on Monday morning after he was stabbed at an industrial estate at Minchinbury.
Distraught friends gathered at the scene on Monday morning, before a memorial was held at the skate park in St Clair later that day.
By Tuesday morning, the skate park had become a shrine with hundreds of messages scrawled on the concrete in support of the murdered teen.
Hayden, an apprentice mechanic at his father's motorbike repair shop, was arriving for work when he was attacked just before 9am on Monday.
His stabbing death came a week after he graduated from Year 10 at Erskine Park High School.
"It is horrific to see a child like that being killed," Superintendent Wayne Cox said.
Despite having no suspect at this stage, police say they have CCTV footage of a man being dropped off by a car at the premises in Marieanne Place at the time of the attack.
His father is said to have links to the Lone Wolf Outlaw motorcycle gang, but police are down-playing bikie involvement.
"There is no intelligence to suggest the attack is part of a war between two bikie gangs and I would suggest there is no stage for alarm at this time," Superintendent Cox said.