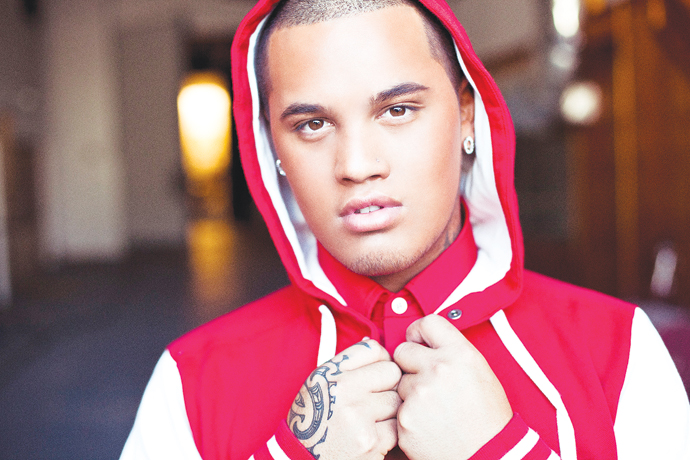 This country's last ever 'Australian Idol' winner, Stan Walker, had a life changing moment the night he won Australia's biggest singing contest in 2009, it wasn't just the beginning of a lucrative music career for the then 19-year-old but it was the official ending of a dangerous and violent upbringing that Stan once compared to the 1994 New Zealand film, 'Once Were Warriors'.
Stan described his life growing up as a "rugged upbringing". He was surrounded by drugs and alcohol, a violent and abusive father, domestic violence and poverty. All this turmoil lead to Stan smoking marijuana, stealing and hanging out with the wrong crowd.
At 15, Stan decided to change his life and turned to God. He started going to church and found his passion for music.
Stan said winning 'Australian Idol' not only changed his life in terms of career but in terms of putting his destructive past behind him to finally provide a better home life for himself and his family.
"Winning 'Idol' gave me the strength that I've really needed to get through the hard times at home, as well as in my career and this industry," he said.
"The win was a big testimony for our family, not just for me but from where we've all come from."
Today, almost two years since winning 'Idol', Stan Walker releases his third and "most fun" album to date with 'Let The Music Play'.
"The new album is a declaration of a celebration," Stan said.
"It's representing who I am and where I am at this point in time in my life and musically as well."
In 2010, Stan released his second album 'From The Inside Out'. The record debuted at number two on the ARIA albums chart and spawned the smash hits 'Unbroken', 'Choose You' and 'Homesick', all doing well on both the Aussie and Kiwi charts.
Stan said 'Let The Music Play' is far more upbeat, playful and fresh in comparison to the 'deeper' tracks on 'From The Inside Out'.
"The last album was more serious and showed the deeper parts of me," he said. "This one still shows all the depths of me but also me as a 21-year-old – the young, crazy and fun side definitely comes out in 'Let The Music Play'."
Stan recorded much of 'Let The Music Play' over in the United States and was lucky enough to work with some of America's biggest producers and musicians. Stan said he took a lot away after working alongside the same people who have made the likes of Lady Gaga, Justin Timberlake and Lil' Wayne some of the world's biggest stars.
"It was a really interesting and amazing experience to work with all those talented people," he said.
"A lot of people get let down sometimes when they see who they've worked with because they might not have that same experience as you. So I went in with the same attitude and the same goal just to write something really good and it turned out unbelievably well for me."
Featuring the hit singles 'Loud' and 'Light It Up', 'Let The Music Play' also features a number of duets, one with Stan's good mate and fellow 'Australian Idol' alumni Jessica Mauboy with the current radio smash 'Galaxy' and the other with his mum April Walker in a remake of the classic Eva Cassidy hit 'Songbird'.
"The first time I heard 'Songbird' my cousin and uncle sang it and I loved it straight away," Stan said.
"After hearing Eva Cassidy's version it became one of my favourite songs ever and I've never really heard a beautiful song quite like it. The thing about old school songs like that is when they talk about love, it's real love."
Stan said his mother was absolutely thrilled when he approached her to sing with him on one of their all-time favourite songs.
"My mum loves the way the song turned out, she actually had a cry the first time she heard it," he said.
"I'm really family-orientated and was brought up in a big family who were always together, so I just had to find the right song to finally get my mum on one of my CDs."
Despite the show Stan became a household name no longer airing in Australia, there is still plenty of platforms for talented singers and entertainers to crack the big time with top-rating shows like 'The X Factor' and 'Australia's Got Talent' taking over from where 'Idol' left off.
Stan said even though TV talent shows give you an amazing kick-start in the industry, in terms of the music contract and instant fans, once the cameras are switched off the hard work to prove yourself in the 'real' music world only just begins.
"It's a really difficult challenge because we are put on such a loose platform that we need to sustain ourselves," he said. "It's all about hard work and it's definitely much tougher than people think."
Despite being nominated for several ARIA awards and so far taken home none, Stan said it doesn't bother him that people don't give him the recognition he deserves just because he came from a TV talent show.
"It doesn't upset me because sometimes a lot of people don't even know what they're talking about," he said. "As long as I know and the people around me know then that's all that matters."
Stan Walker will be performing at Penrith Panthers' EVAN Theatre alongside friend and mega-Aussie babe Jessica Mauboy on Saturday, January 14 2012. Tickets are $46.50 and are on sale now.
Stan's latest album 'Let The Music Play' is released today.