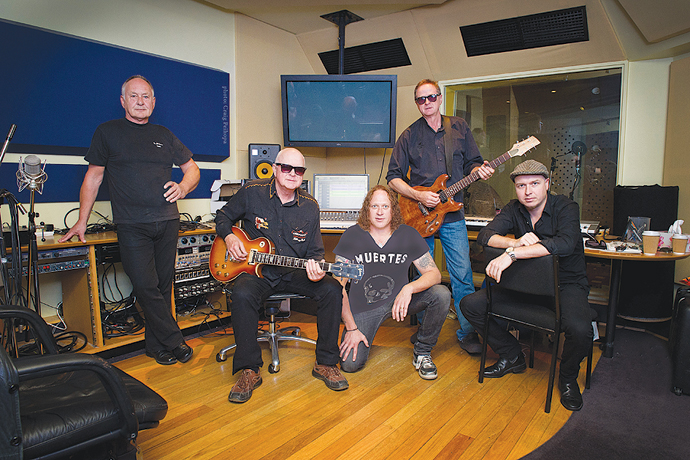 While Australian rocker Dave Gleeson might be a veteran on the stage with more than 25 years experience, he's about to have the same feeling people get when they start a new job. And technically Dave is starting a new job, as the lead singer of one of Australia's most iconic bands – The Angels.
"It's funny being the new guy, obviously I've been a performer for the best part of my life but the thing about it is I guess the people I'm really trying to impress are the guys in the band," Dave said.
Following the recent departure of original Angels frontman Doc Neeson, who is pursuing his own solo interests, Dave, formerly of the Screaming Jets, plans to give his now permanent stint with his new band a red hot go when The Angels rock out Penrith Panthers' EVAN Theatre next Friday, December 9.
"I hope the fans react well to me being part of this band," Dave said.
"The Angels are rock royalty and I love doing rock. My former band the Screaming Jets spent many years on the road with The Angels, so we have that connection."
Dave said he knows fans may find it difficult at first to adjust to the new line-up with him in it because former front man Doc Neeson was regarded so highly.
"Doc is synonymous with The Angels but hopefully people enjoy the show and really get a kick out of rocking to a full-on Angels set," he said.
"Doc is an integral part of The Angels and always will be but he's off doing his own thing now and the fact we've been getting some positive responses so far is unreal for me."
The Angels formed more than 40 years ago in Adelaide before relocating to Sydney and enjoying huge local success well into the 90s.
The Angels had countless top 10 hits including 'Am I Ever Gonna See Your Face Again', 'Take A Long Line', 'No Secrets' and 'We've Gotta Get Out Of This Place'.
They also went through a number of name changes over the years including Angel City, The Angels from Angel City and The Keystone Angels.
Since The Angels re-formed in 2008 with Doc Neeson, they did sell-out tours and then at the end of 2010, Doc decided to pursue his solo career. Now, they have been performing around Australia under the name of The Angels featuring Dave Gleeson.
One night earlier this year in South Australia, the Brewster Brothers, featuring Rick and John Brewster, (Rick being one of the founding and longest serving members of the band) were performing just another regular gig until one of their fans Dave Gleeson showed up… literally.
"I was up in the Adelaide Hills and I heard the boys were doing a 'Brewster' show in South Australia," Dave said.
"I rocked up to the gig to see them and eventually slid my way up the front after a few sly beers. So I decided to head up on stage and do a song with them, I ended up doing four or five tracks.
"They said they were in the studio at the time and asked if I wanted to do some vocals for them. I agreed and they were chuffed about that and my time in The Angels kind of grew from there."
In mid 2011, The Angels fronted by Dave Gleeson performed two mind-blowing sell-out shows in Sydney and Adelaide. They showcased the band's new single 'Waiting For The Sun' as well as performing all the classics, leaving fans screaming for more and excited at the prospect of a new revitalised Angels.
Following that wave of enthusiasm, what had started out as a bit of fun between Dave and the rest of the band has created a new chapter for The Angels. Earlier last month Dave signed on to be a permanent member of the iconic pub outfit.
Dave said all the current members of The Angels were very supportive with the decision to allow him to join the band.
"They were all unanimous in their support and they're the guys I'm now trying to impress every night," he said.
In the mid 80s Dave formed his first rock band, Aspect, with an old school friend. They wrote their own songs in the beginning but built up a popular live show filled with covers of Australian rock classics by bands like AC/DC and The Angels.
But a 1987 support slot at Cessnock Supporters Club forced Aspect to bring some more of their original songs to a live show because that night they were supporting the 'actual' Angels.
"We supported The Angels that night in Cessnock and had to come up with some new songs to play because most of our set at the time was Angels material," Dave said.
"Looking back and now being a part of The Angels is a real spinout, it's unreal. It's one of those things in the job that you get lucky to do."
When the new look Angels hit the stage next Friday, Dave promises a high energy show complete with a few new tracks and some Angels classics that haven't been performed in public for years.
"The impression I'm getting from the band is that there's been a lot of songs that they haven't been able to do," he said.
"Songs like 'Mr Damage' and 'Ivory Stairs' are some great rocking Angels songs that don't often get played and the band are really stoked to be able to pump some energy and put on a full-on energetic show."
Along with the upcoming tour, next year is set to be one to remember for The Angels thanks to a new long-awaited album currently in the works.
"We've recorded a dozen new songs and we're looking to put an album together for next year," Dave said.