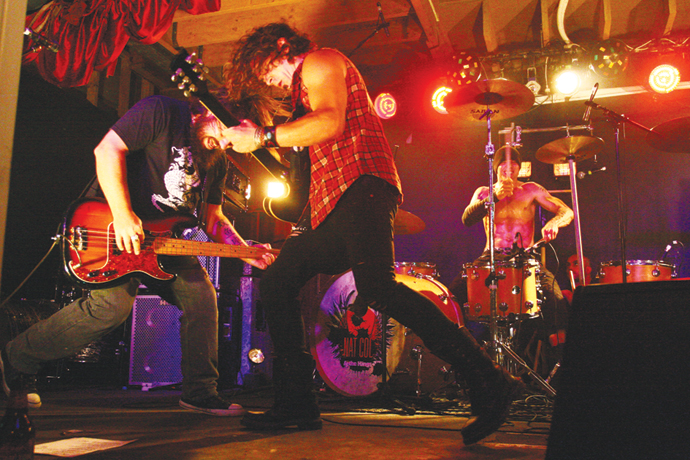 It's hard to imagine that a kid, who wasn't even in high school at the time, could capture the world's attention all because he could play a bit of guitar. Okay, maybe that's playing it down just a tad.
At the tender age of just 10, Nathan Cavaleri wasn't your average schoolboy, he was a worldwide megastar and one of the planet's most naturally gifted guitarists/musicians anyone had ever seen.
Nathan was so huge he was an international touring sensation and caught the eye of not only fans across the globe but some of the world's biggest music acts including Mark Knopfler of Dire Straits, B.B. King, Prince, Led Zeppelin, Chuck Berry and 'some guy' called Michael Jackson.
Nathan said he looks back on his unique childhood as something he will never forget.
"My childhood was great," he said. "I made some choices to live a life that was a little bit different to what 'normal kids' experience.
"My parents made sure that the family stayed together, so when we went on tour it was all of us. I can imagine things would've ended up very different if they were letting me go on the road by myself with the session players and tour manager."
Nathan's talents were in high demand, not only in Australia but overseas as well. He was a regular fixture on popular variety show 'Hey Hey It's Saturday', as well as some of America's biggest shows including 'Entertainment Tonight', 'Good Morning America' and 'Late Night with Conan O'Brien'.
Nathan said because he was so young he was fairly naïve to all the attention he was receiving from the world's media, as well as some rock n roll giants.
"At that age you don't even realise it and you don't even know the reality of the situation," he said. "The funniest thing about the whole period was I didn't know who I was playing with or who I was teaming up with."
Nathan recalls a story of a trip to a three-day festival in Zurich, Switzerland in 1995 where he played on stage after Elton John and before Led Zeppelin's Jimmy Page and Robert Plant.
"I knew who Elton John was but didn't know who Page or Plant were," Nathan said.
"So I get off stage and this pommy guy comes up to me and asks me for a CD. So I walk over to my mum and said 'This guy over there wants a CD, can you grab him one?' Mum just stopped and looked and said 'What, that guy over there?' and I went 'Yeah' and she said 'That's Jimmy Page from Led Zeppelin' and I was like 'Who's Jimmy Page and who's Led Zeppelin?'
"That night was very educational for me. I saw their set as Page and Plant and was blown away, still not knowing who they were. I was more rapt to be hanging out with Ugly Kid Joe than Jimmy Page and Robert Plant."
Nathan said it was probably a good thing that he was so unaware of who he was surrounding himself with.
"I believe you can't learn when you're starstruck," he said. "I was walking around like a sponge, so anything I liked I would listen to, I'd watch and take it on. It was actually a really good thing I didn't know who these stars were."
In 1994 Nathan had three record companies in a bidding war for his signature – one owned by Prince, one by Madonna and one called MJJ Records, owned by Michael Jackson. After much thought Nathan signed a worldwide recording deal with MJJ.
"Michael Jackson had a lot to do with the American side of my career and he was the reason we spent half the year in the States," Nathan said.
"The people working for MJJ Records were a real honest bunch. My parents were still learning and were doing their best to keep me away from the 'sharks' and at the same time trying to identify them, which was difficult when you don't have the experience.
"We were just lucky that the people we worked with really did have our best interests at heart."
Fast-forward nearly 15 years, Nathan Cavaleri, now 29, is all grown up and fronting his own two-piece band called Nat Col & The Kings.
After years out of the spotlight working behind the scenes and producing local bands, Nathan has teamed up with former Screaming Jets drummer Col Hatchman to get back to the blues and roots genre he loves so much.
"I had a break for a while trying to work out what I wanted to do and work out musically where my passion lies stylistically and basically it's still got these bluesy roots… I can't escape them, I've tried," Nathan laughs.
"Our sound is loud, rocking, powerful and fiery but still pretty feel-good. My partner in the band, Col, is almost like a frontman himself – he's pretty bloody amazing!"
Nathan and Col have been working together for the past seven years in various formats, including a stint in a punk rock band. Nathan said it took a few years of jamming together to work out what direction they wanted to go in.
"The good thing about the band is we decided to put it together not for any reason outside of wanting to connect with people via music," he said.
"It wasn't about success or money or trying to get a record deal, it was just about going on the road playing some good blues rock music."