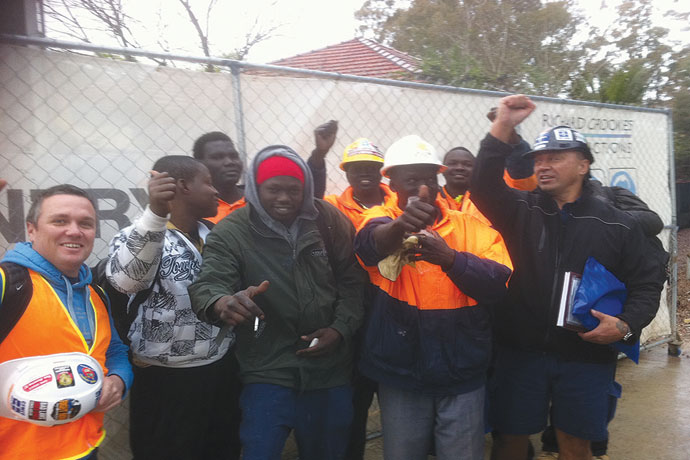 Western Sydney construction sites are rife with dubious subcontracting deals that are exploiting migrant workers, according to Construction, Forestry, Mining and Energy Union (CFMEU) NSW organiser, Andrew Ferguson.
But they are not your back street, one man and his truck, construction contracts – the latest incident was at the construction site of the University of Sydney's medical school at Nepean Hospital.
Just over a month ago, CFMEU received correspondence from the wife of an employee of D & G Group Australia, a company hiring Sudanese migrants to complete works on the medical school.
"The wife contacted us and told us she had no money for the groceries or children. Realising there were families' lives being affected, we immediately attended the site to find that there were a number of issues that needed to be addressed," Mr Ferguson said.
"There was the obvious issue of wages not being paid and evidence that the Sudanese workers were being exploited as cheap labour. Wages were being paid cash in hand and there were no superannuation payments."
The problem for CFMEU was that D & G Group was not the primary holder of the construction contract.
Richard Crookes Constructions was responsible for the site, and subcontracted work to construction company Fyna Formwork, who further subcontracted work to D & G Group.
Richard Crookes Constructions also completed works on Nepean's Emergency Department.
"When we went to the top the initial reaction was 'it's not our problem, not our employees' but the moral dilemma is that they are still receiving the benefits from these exploited workers," Mr Ferguson said.
"It is the poor workers at the bottom of the heap who suffer because they are paid illegal wages or no workers compensation, and it is amazing there are not more deaths on construction sites."
Fyna Formwork has previously been in trouble with the Australian Securities and Investments Commission – a previous financial controller was jailed for defrauding the government of $6.7 million, and former managing director, James Soong, was banned from operating companies after directing five failed companies in seven years.
After some persuasion, Richard Crookes Constructions made three direct payments for appropriate employee funds and wages into a superannuation fund, a redundancy fund, and to the CFMEU to be distributed between 15 Sudanese workers worth approximately $12,000 each.
Richard Crookes Constructions general manager, David Michel, said he was unable to comment on the circumstances surrounding the subcontracting of works at the hospital site.