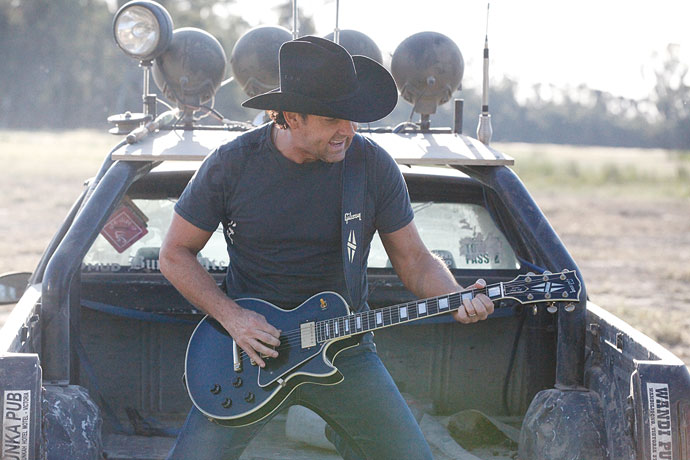 He's as Aussie as a hot meat pie with sauce, a kangaroo bouncing through the bush and a V8 Supercar flying up Bathurst.
Australian country music star Lee Kernaghan is a quintessential, down-to-earth Aussie bloke and he wouldn't have it any other way.
"My real love is Australia, our way of life, our culture and our people," Lee said.
"Those are the things I like to write about, that we all can identify and resonate to."
This Sunday, October 16, Lee Kernaghan will be topping off Rooty Hill RSL's huge country music weekend with a bang, performing his final Sydney show of the year.
"I'm coming to Rooty Hill to find my thrill," Lee said.
"It's the 'Ultimate Hits Show' and I'm very much looking forward to it as it will be my last Sydney show for 2011 and it'll be somewhat of a party."
On the night fans will enjoy many of Lee's greatest songs from his successful 20 year career in what many critics are calling the most exciting live show in Australia.
"I think my song 'The Outback Club' is always a perennial favourite," Lee said.
"It's also hard to imagine doing a show without 'Boys From The Bush', it was my first ever number one hit and the crowd love to sing along to that."
Another song Lee will be performing on the night will be his latest single 'Scars', his incredible 31st number one song in Australia. Lee says going into a concert with so many hits makes his job of creating a good night a lot easier.
"It's awesome because you can get out there and sing a whole lot of songs that everybody's going to know," he said.
"There's that definite recognition and it makes the whole job of putting a show on so much easier."
Late last month the 47-year-old released his 2CD 'Ultimate Hits' album, almost 20 years since his first ARIA award winning album, 'The Outback Club', in 1992. Lee says he's come a long way since performing in local talent quests as a young boy in his home town in country Victoria.
"The very first talent quest I was in I came third, there were only three of us in it," Lee laughs.
"It was called the 'Chicka Dee Show' and it was a live-to-air talent quest on radio 2AY in Albury. I was five-years-old and all I can remember was the kid who won was a pretty talented clarinet player."
Now, some 40 years later, Lee has a legion of fans across the country as well as around the world. With more than 30 number one songs to his name and nearly two million records sold in Australia alone, Lee recently allowed his dedicated fans to jump on Facebook and Twitter to decide what songs they wanted to hear on his 'Ultimate Hits' record.
"It's the people out there that come to the shows and buy the music and they turn the songs into hits," he said.
"I thought it's better to consult with the people who gave me a career in determining what the top 42 tracks would be."
While Lee's career is booming now, there was a time when he was an unknown musician who lived the ups-and-downs of trying to crack the music market. Lee says his fans are the most important part of what he does because without them he wouldn't be where he is today.
"I think of my fans like an extended family," he said.
"I think the reason why I appreciate that support so much is because I slogged it out for 10 years professionally before I made my first album and got my first gig.
"During those 10 years of really doing it hard and getting kicked in the guts I remember doing a show in 1991 when no one turned up. So when things start to fire I really appreciate that this isn't just my own doing but a bunch of people that make it happen and I never want to lose sight of that."
Most Australian country artists' songs represent good family values but they also talk of a harsh land and what it's like living and working in rural Australia. Lee's country hits go along those same sort of lines but on most occasions incorporate an uplifting and positive twist.
"The power of song is to unite us, lift and inspire us," Lee said.
"I know when I'm feeling down and need a lift I'm probably going to get a lift through music. So I hope songs like 'Spirit Of The Bush', 'The Outback Club' and even 'I Milk Cows' make people feel good."
Lee's love for the bush and its people was rewarded in 2008 when he was named by former Prime Minister, Kevin Rudd, as the 'Australian of the Year'. Lee says it was an enormous honour for many reasons.
"To me that award wasn't so much about me, it was more about people in rural and regional Australia who do so much for the county," he said.
"It was more symbolic for me than feeling purely for me."
When Lee performs at the Rooty Hill RSL this weekend he'll be bringing his equally talented sister Tanya Kernaghan along for the ride.
"Tanya's a platinum selling artist in her own right and has a lot of fans in Sydney," Lee said.
"Tanya and I grew up in a musical family and perform together every now and then. It will be something special for the fans on Sunday."