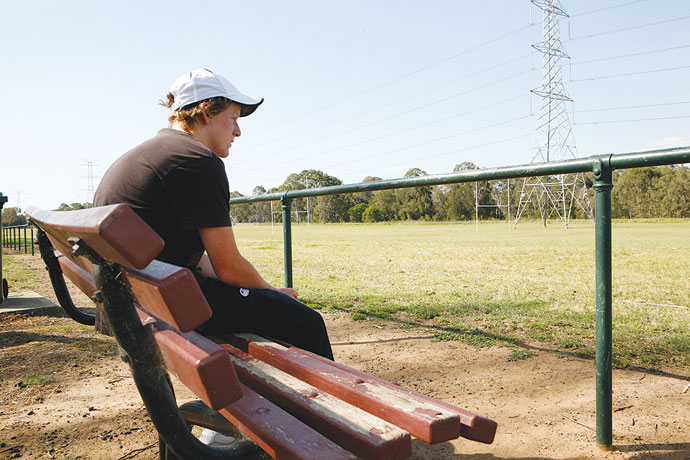 EXCLUSIVE: A mother and grandmother were mortified when they looked in the back of an ambulance and saw a battered and bruised face they could not even recognise.
Matt (surname withheld), 15, was unconscious, disfigured and bloodied. He looked like he was dead.
He was rushed to Westmead Hospital where he would stay for six nights to make a surprisingly fast recovery.
"It was traumatic, so traumatic. Sitting in the back of the ambulance, the paramedics were preparing us for the worst," recalled Matt's mother.
Just minutes before, Matt had been sitting with his girlfriend on a park bench looking out over Whalan Reserve, on Boronia Road, North St Marys.
As they were sitting there a group of up to seven people stopped nearby.
Two men, of Pacific-Islander appearance and roughly 17 to 22 years old, approached Matt and asked him for a cigarette. When he replied "no", they walked away.
Whether it was the alcohol on their breath or the fact that the group loitered close by, Matt realised there was something amiss and told his girlfriend to go home.
But before he could also return to his home, less than 50 metres away, four of the men approached Matt and struck him down.
"My memory isn't the best right now but I remember being punched and there were quite a few of them. Not all of the group attacked me though – some just watched on," Matt said.
While he can't remember much beyond that point, neighbours heard the nickname 'Mooney' called out just before Matt was discovered in the park.
Police and doctors believe that several of the attackers kicked him in the face and shoulders before fleeing through the Whalan Reserve with Matt's phone and shoes.
The damage to Matt was so bad that there were footprints visible on his bruised skin days later.
"Initially the doctors thought he had multiple fractures to his cheekbones and skull, bleeding on the brain and a dislocated shoulder," his mother said.
"The doctors actually performed the scans twice because they were convinced he must have had fractures but unbelievably he did not."
Matt did suffer bleeding on the brain though, which kept him unconscious for two days straight and is still impacting his memory.
"I am just glad that it happened to me and not to someone younger or more vulnerable," Matt said.
The family is appealing for people to come forward and help police investigations.
Contact St Marys Police via Crime Stoppers on 1800 333 000.