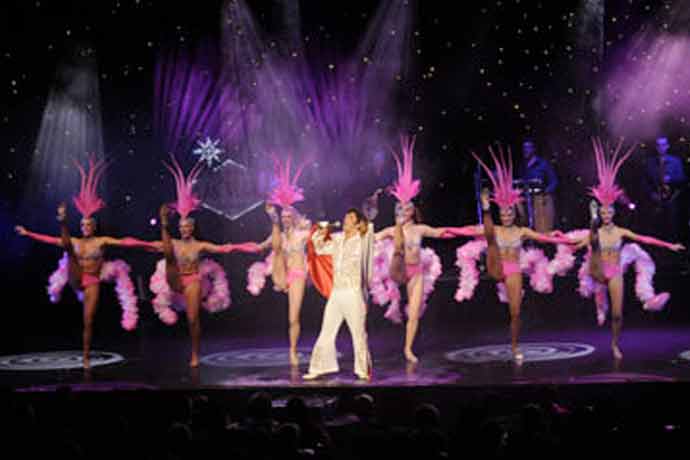 Penrith is about to turn into the world famous Sin City.
Our great town is set to get a glimpse of what Las Vegas used to be like with Elvis impersonators, illusionists, comedians and glamorous showgirls taking centre stage.
This is according to Michael Boyd, who is producing and starring as the illusionist in the 'Viva Las Vegas Spectacular' that is set to dazzle the audience at Penrith Panthers' EVAN Theatre on Saturday, September 10.
Boyd says modern acts with elaborate sets had taken over Las Vegas in recent years, with the likes of Cirque du Soleil and musicals like 'The Lion King' more geared towards children.
"Showgirls, who were once the main attraction, started to disappear," Boyd said.
"Now we are going back to our roots because I believe Las Vegas shows should be an adult Disneyland with plenty of eye candy."
The 90-minute extravaganza, which has twice sold out at Melbourne's Crown Casino, will feature Elvis Presley and Tom Jones impersonators, illusionists and sexy Vegas showgirls.
"I went to Las Vegas in March this year to see the latest trends and have incorporated the best elements into the show," Boyd said.
Audiences will be treated to good old-fashioned entertainment, the way Las Vegas used to be.
'Viva Las Vegas Spectacular' arrives on the Penrith Panthers Strip on Saturday, September 10 at 8pm. Tickets are $59.
To book or for more information call 1800 061 991 or visit www.penrith.panthers.com.au.
FYI is giving away five double passes to see the 'Viva Las Vegas Spectacular' at Penrith Panthers, see page 9 for details on how to enter.