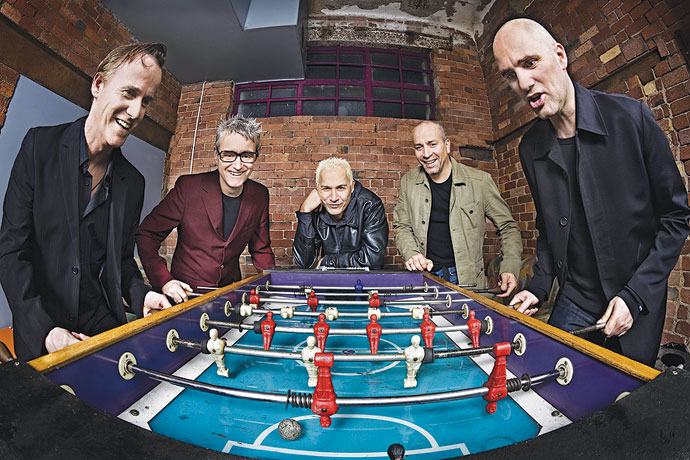 Their sound has been compared to 747 aeroplanes taking off, a concrete mixer in motion, a tap dripping away and a big Aussie V8 stuck in traffic but if you listen closely what you're actually hearing is one of Australia's biggest, loudest and most adventurous rock bands from the last 25 years – Boom Crash Opera.
Their songs are infectious and inspirational. Their hits are played during football grand finals, movie soundtracks and even Mount Franklin water commercials. Their 'big' rousing sound is what makes them as relevant today as they were when they first started out a quarter of a century ago.
And, this October the boys from Boom Crash Opera will be making their way to the Penrith RSL to celebrate their milestone in the Australian music landscape and they'll be bringing a very special friend along for the ride, Sean Kelly of Models fame.
Boom Crash Opera frontman, Dale Ryder, can't wait to hit the Penrith stage with his good mate.
"It'll be our 25th anniversary and we're going to play all our biggest hits, a few misses and some sneaky things that we've never played before," Dale said.
"The most exciting thing for us is bringing Sean Kelly [lead singer] from the Models with us. Sean's been a really big influence on the band and is one of the nicest people in music on the planet."
Dale says fans will not only be treated to the big back catalogue of Boom Crash Opera songs, but will also get to experience the classic hits of the Models including 'Out Of Mind Out Of Sight' and 'Barbados'.
"A great thing about the show is Sean will be singing with our band and we'll be playing his songs too. We'll be swapping songs every now and again and it's just really interesting to hear someone else sing my songs," he said.
"We'll do about four or five Models songs with our band playing, so it's going to sound a little different, which is really cool."
Boom Crash Opera formed in 1985 and achieved immense success on the Australian and international charts throughout the late 1980's and early to mid-1990's.
They had a reputation of being a powerful live act and were accomplished and respected international recording artists and in their latter stages were lo-fi electro pioneers.
Their first single 'Great Wall', released in 1986, reached number five on the ARIA charts and the follow up single 'Hands Up In The Air' also took the radio airwaves by storm.
Following the success of their debut record, Boom Crash Opera dropped what would be their most successful album in 1989 called 'These Here Are Crazy Times'.
The album spent more than a year in the ARIA Top 40 charts and spawned massive hits such as 'Onion Skin', 'Get Out Of The House', 'The Best Thing' and 'Dancing In The Storm'.
Dale credits 'Dancing In The Storm', which was also featured in a 2010 Mount Franklin commercial, as his favourite track to perform.
"'Dancing In The Storm' is my favourite track because it's got a great lyric," he said. "Even though it's kind of a dark lyric, cause it's about having a fight with your wife, it's kind of really uplifting."
The success of the Boom Crash Opera during their peak was in some ways a surprise to Dale but he always knew his band had something special.
"It's definitely surprising but you kind of know you've got something good happening but whether people like it or not is another thing," Dale said.
"Having success is always a good thing. I didn't get as much success as I wanted… I wanted to be a millionaire and that didn't eventuate," he laughs.
These days there are countless numbers of young Aussie bands trying to make it big in the huge ocean that is the Australian music industry. Some are lucky and enjoy a good ride but for others it's always the hard weekly slog of plugging in their amp at a local pub and playing to an intoxicated crowd.
Dale says the music business is harder to crack these days because there are fewer opportunities out there for bands to show off their talent.
"In some aspects it's harder because there are not as many gigs as there used to be," he said.
"In the old days you could watch 'Countdown' and there'd be 40 or 50 bands playing around the country.
"These days though you have sites like YouTube and people can really become an overnight success on there. There is also 'The X Factor', which I hate but my kids love it and watch it.
"If someone performed one of my songs on 'The X Factor' it would be really funny because I'd get to hear a different interpretation of the song."
When Boom Crash Opera blast the speakers at the Penrith RSL on October 15, fans will get to experience a more laid back band.
"I think we are not as precious as we used to be, we are a bit more 'tongue in cheek' these days," Dale said.
"I also find that my voice is a lot better now and I'm a lot more comfortable on stage. I used to be shy and nervous when I first performed."
Boom Crash Opera with special guest Sean Kelly from the Models perform live at the Penrith RSL on Saturday, October 15 at 7.30pm. Tickets are $15 for members and $20 for guests. Phone: 4728 5200 or visit www.penrithrsl.com.au.