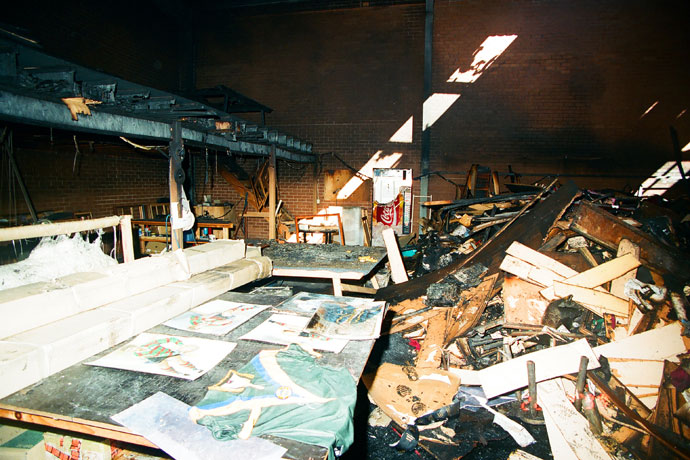 Police have re-opened an investigation into a multi-million dollar factory fire at Penrith twelve years ago.
About 10:25pm on Sunday, February 21, police and emergency services were called to a factory unit in Regentville Road, Penrith after two smoke alarms were activated.

Upon arrival the unit was found to be well alight and fire-fighters had to force entry to the premises.

The fire was extinguished, however, the premises suffered extensive internal damage destroying an estimated $14 million dollars of stock.

Strike Force Stonebrook, comprising of detectives from Penrith Local Area Command, has now been formed to re-investigate the suspicious blaze.

Detective Sergeant Andrew Clarke from Penrith Local Area Command said the case has been re-opened after investigators received new information from the State Coroner.

"At the time the premises were operating as a successful business selling sporting memorabilia. An estimated $14 million dollars worth of collectable signed sporting memorabilia was destroyed in the fire.

"Amongst the items were cricket bats signed by legends of the game including highly collectable bats signed by Sir Donald Bradman, Denis Compton, Mark and Steve Waugh and Mark Taylor.

"There were also a number of rugby league jerseys signed by twenty of the greatest league legends from each club.

Strike Force investigators are appealing for anyone with information about the fire to come forward.

"While the incident occurred twelve years ago someone may remember hearing or seeing something suspicious in the area at the time of the fire.

"Alternatively someone may have overheard people talking about it and then not thought anymore of the conversation.

"Any piece of information, regardless of how insignificant it may seem, could be the breakthrough investigators need to solve the case.

"We are now treating the fire as suspicious and anyone with information should call Penrith Detectives or Crime Stoppers on 1800 333 000," said Detective Sergeant Clarke.