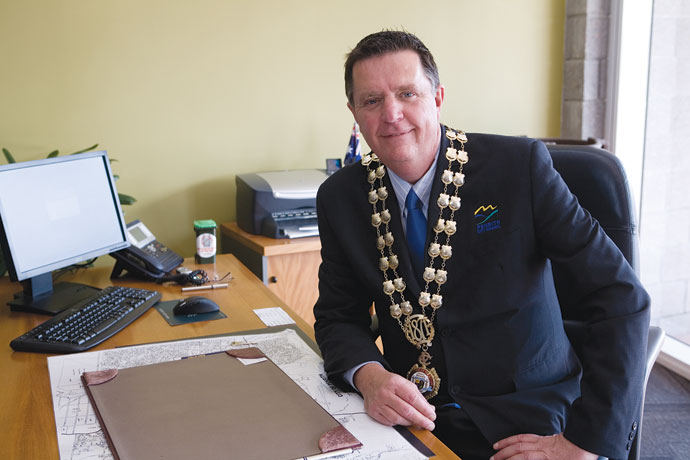 EXCLUSIVE: Greg Davies has declared he will be a full time Mayor, but it's unlikely you'll see him wearing the traditional Mayoral Robes.
Cr Davies said he'll wear the robes for citizenship ceremonies but outside of that, "the robes can stay behind the door for the next year".
In a one-on-one interview with The Western Weekender on Tuesday – just a week after being returned to the job he has held twice before – Cr Davies said the role of Mayor had changed significantly since he was first elected to Council in 1995.
"When I first got elected in 1995 the Mayor was a day a week job… plenty of functions to go to but it wasn't that busy," he said.
"The bar was really lifted when John Bateman took over during the Olympics and I think successive Mayors have tried to lift that bar even higher… every new thing you bring up is a legacy for the following year."
Looking fresh faced and ready for the challenges that are ahead, Cr Davies again pushed his desire for Council to move away from focusing on broader State and Federal issues.
"I think we should be lobbying governments for things that we need, but I don't want us to be in a position where we are taking positions on political views that are obviously going to go along party lines," he said.
"I just think that's a waste of time. We are 15 equally elected councillors supposed to be looking after Penrith.
"Federal politics has a representative, State politics has representatives… I really don't think it's the role of Council to buy into those things.
"Certainly we should have an opinion and we should be pushing for stuff for Penrith but we should be doing what we were elected to do, which is to look after Penrith."
Cr Davies is keen to see more jobs created locally, believing there is something of a disconnect between locals and the community itself, given so many have to travel long distances to work.
"I think the greatest thing you can do to create a community is to create local jobs," he said.
"That means you have to go out and work your hardest to attract investment, infrastructure, transport solutions and traffic solutions."
He said if governments plan to put more people in regions such as Penrith, they need to follow it up with appropriate infrastructure and work opportunities.
Cr Davies said in-fighting at Council needed to stop, and declared Penrith must get back on the map as a success story.
"We had a position where our Council was recognised as one of the leading councils in Australia," he said.
"I think we've lost a bit of that over the last three years and that's really disappointing.
"I think we've been bogged down on issues we shouldn't have been really concerned with."