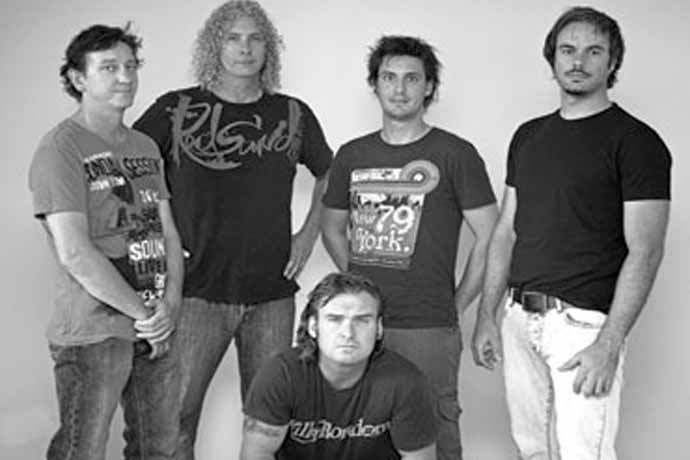 They came during an era when 'Seinfeld' and 'Friends' were ratings gold, when 'Jurassic Park' and 'Home Alone' were box office blockbusters and when bands like Nirvana and Pearl Jam were at the top of the charts.
This was the 1990s and Sydney band Seattle Sound lived through all that and came out the other end minus the hyper-colour t-shirts and bleached blonde hair.
Beginning in 1996, Sydney's number one cover band formed at the height of the grunge music era. Bands like Nirvana, Alice In Chains, Soundgarden and Pearl Jam were taking the world by storm, selling millions of albums across the globe and creating anthems for a generation. Interestingly, these bands all came out of one place – Seattle, Washington, USA.
Back in the early days of Seattle Sound their playlists were flooded with the popular hits of those Seattle based bands. Over time they've had to update, adapt and develop with people's changing tastes in music.
"We originally started doing Seattle sound music but now it's not really like that," lead singer, John Perry, said.
"It started off with Pearl Jam and when Nirvana broke big 15 years ago but from then on its evolved into a lot of other things. We've changed a lot in 16 years and some of those songs and artists we did before just don't really work now."
John, 43, says the band over the years has had to update their playlists largely due to the rather youthful crowds they play to at some of Sydney's most popular nightspots and venues.
"If we were to go to a popular venue these days and play 'Spoonman' by Soundgarden or 'Even Flow' by Pearl Jam, it's basically blank faces," he said.
"A lot of this Seattle area music we started doing 16 years ago and some of these 20-year-old's in the crowd would've been five (years-old) at the time when these bands were big.
"So now in a two-hour show we'll do two sets that include music by the Goo Goo Dolls, Matchbox 20, U2, Green Day, Kings Of Leon, Foo Fighters and the Red Hot Chilli Peppers."
Seattle Sound are made up of five very talented musicians with John being part of the original line-up when they formed in the mid '90s. They perform roughly four gigs a month, 50 gigs per year and an estimated 800 gigs over the last 16 years.
Their popularity over Sydney has given them the billing of 'Sydney's Number One Cover Band', a title that John is quite humbled by.
"It's pretty good to have that title and I think it's based on crowd numbers," he said. "We get paid pretty well for what we do and we're lucky enough to pull really big crowds."
Seattle Sound have performed at a countless number of venues in the Sydney area over the years but a local stage here in Penrith is among the band's favourites.
"Last time we were at the Penrith RSL we had an awesome time and I'm not just saying that," John affirms.
"We had a really good time at the RSL because at the Showroom we play in there's nothing else in that room except for the band.
"We go to other venues and the management will turn around and say to us 'That's a great crowd tonight' but you can still get a lot of people at the venue that don't really care about the band. However the RSL gives you a really good gauge on how strong the band really is."
Before Seattle Sound made it big as a cover band, they were like many other independent bands plotting along writing and performing their own originals.
Unfortunately writing good songs wasn't their forte and the guys decided if they were going to be successful they needed to perfect the best.
"We just didn't have any good songwriters and we just didn't have the ability to write any good songs. And if you haven't got that then you're not going to make any decent money out of it," John said.
Thankfully for John and the boys performing other people's songs worked out well and now they enjoy the lifestyle of constant touring and rock n' roll road trips.
However the 'rockstar lifestyle' has come down a notch over the years.
"The lifestyle on the road is great and we are just really lucky to be doing what we are doing at our age," John said.
"Back in the day was wild but it's settled down now. We've been through a few divorces and a lot of breakups. We used to go down to the snow every year and it was out of control but as we've grown up we now just have a few beers and chill out."
And chill out they must because when the microphones are put away and the drumkit has been dismantled, each have important day jobs they must attend to.
Seattle Sound return to one of their most loved venues when they perform live in the Showroom at the Penrith RSL on Friday, August 26 at 8pm. Tickets are just $10.