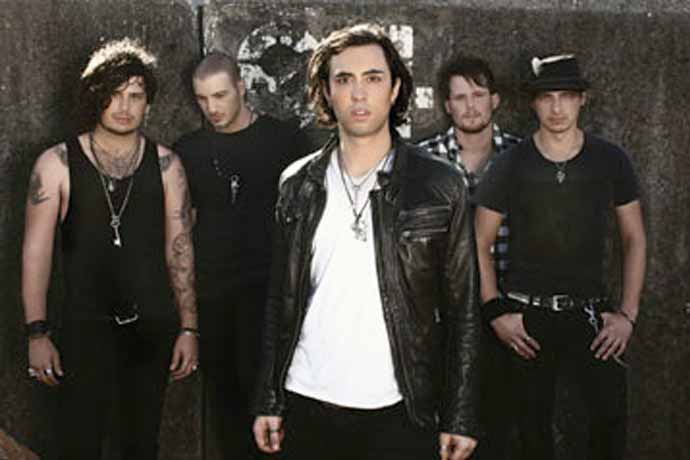 For any young, up and coming Australian rock band the dream is simple – have a hit single, record an album, gather a dedicated fan base and sell-out gigs.
Australia's newest big time rock band, Syndicate, are currently living that rock 'n' roll dream and nothing's going to hold them back.
Syndicate are five young local rockers who have gone from playing the gritty Sydney pub circuit to the small confines of Hollywood's famous Viper Room, all in the space of a year.
Lead singer and Lower Blue Mountains boy, Greg Agar, says their performance at one of Los Angeles' most famous clubs was a daunting one.
"We performed a music showcase there and being a young band from Australia, who didn't even have a release yet, we didn't expect people to know who we were," he said.
"But inside the club there were a smattering of locals and the rest of it was made up of all these industry people standing out the back intimidating the crap out of us."
Their rollercoaster ride in the 'City of Angels' didn't stop there. Signing with major record label Sony Music opened plenty of doors for the band and behind one door was the opportunity to travel to Los Angeles to write and record their debut album.
"The whole Los Angeles experience was incredible from day one," Greg said.
"It was kind of weird having it sink in that we were in Hollywood recording an album but we spent every day in the studio working towards the goal.
"There were moments when we would be allowed into some of Sunset Strip's most famous night clubs, places that not any regular person could go to and it really hit home how much attention we were getting. I even got invited to the Playboy Mansion."
Whilst putting together an album and living the A-list lifestyle in the 'entertainment capital of the world' might sound like an awesome experience, but Greg says it was also a demanding and gruelling one, too.
"It was hard work over there," he said. "I remember 17 hours in the studio one day, 16 hours the next. It was a tiring experience. Even though we did the album over three months it was still fairly taxing on the body."
But the opportunities for Syndicate kept on coming. Their debut album was recorded with the help of some of the music world's biggest names including former Guns N Roses drummer Matt Sorum, Brett Fitz of Slash and Alice Cooper fame and Motley Crue star Tommy Lee.
"We recorded part of the album in Tommy Lee's home studio in Calabasas," Greg said.
"It was a very eye opening experience because we were sitting there in the studio working on our song and Tommy comes in and sits down next to us listening to the song.
"Tommy's worked with lots of amazing people and has a really high standard and for him to take us seriously was the biggest compliment of all."
Another key player in the Syndicate game was legendary US songwriter, Diane Warren, who has written classics for the likes of Meatloaf, Aerosmith, Bon Jovi, Celine Dion and scores more. She penned the dynamic track 'When You Hurt' for the band.
On returning to Australia in late 2010, the boys released their debut single 'Shout', which rocketed to the number one spot on the physical ARIA charts.
Then in July 2011, the next part of the Syndicate dream became a reality when their debut self-titled album was released to the country. The release landed at number 20 on the ARIA charts and was well received by both fans and critics.
"When the album came out we didn't know what to expect from the public, we didn't know whether people would like it or not," Greg said.
"We got a phone call from our record label telling us the good news of our chart position and it was like 'whoa, people really care about us'. It was really cool."
To coincide with the album release the band went on an extensive national tour that saw them rock out countless venues across the country including playing live at Acer Arena for an Anthony Mundine fight in front of a worldwide television audience of 30 million people.
Their promotional tour also took in a bunch of local venues such as Westfield Penrith and downtown St Marys. School shows were also on the schedule, including Greg's former haunt, Blaxland High School.
Next month the band embark on their biggest ever gig supporting American legend, Alice Cooper, on his Australian tour.
"We are very excited to be supporting Alice Cooper and we're grateful for the incredible experience we plan to have," Greg said.
Despite the immense opportunities thrown at them along the way, one thing Syndicate can always stand by is their humble nature and graciousness towards their ever-growing fanbase.
"We haven't had much exposure on television and radio and all our fans that show up to our gigs and that 'like' our Facebook page are all real and we are grateful for every single one," Greg said.