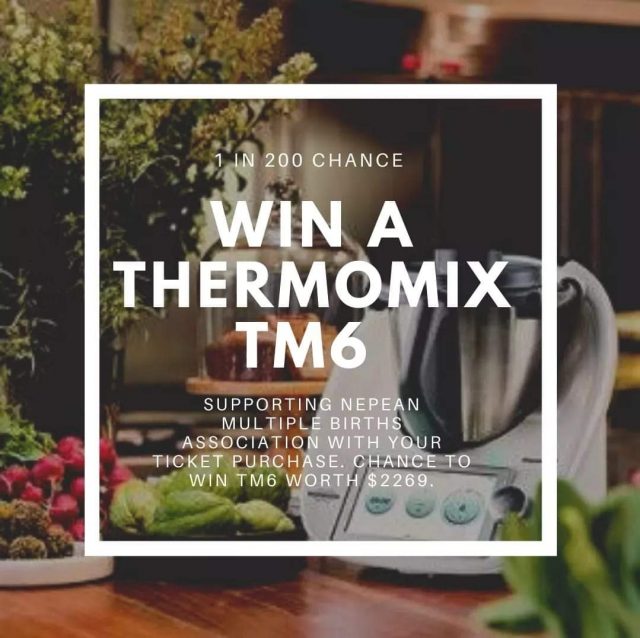 When:
April 5, 2021, 0:00 – May 9, 2021, 23:59
all-day
2021-04-05T00:00:00+10:00
2021-05-10T00:00:00+10:00
Contact:
Nepean Multiple Birth Association
0404155703
🎉Win a Thermomix worth $2269!!🎉
Nepean Multiple Birth Association (NMBA) is a volunteer-based community organisation offering support to families of multiples in the Nepean region which is located in western Sydney. Parents of twins, triplets, and more in the Nepean area can access NMBA for playgroup, social events, and more. We are affiliated with the Australian Multiple Birth Association (AMBA).
As well as a regular playgroup for our mini multiples, which is currently running at a local playland and subsidised by NMBA, we also host picnics and playdates on weekends for families to get together and support one another, mums, dads and parents nights out and school aged events in the holidays all of which are always greatly received. Our annual Christmas party is also a huge event for our members. We also hold information sessions for new and expectant parents in the area.
Proceeds from this raffle will be used to continue supporting families in providing valuable resources and offering free or subsided events allowing members to connect, engage and build meaningful, lifelong friendships with other families with multiples in the local area.
This prize includes Australia wide delivery of the TM6 Thermomix via courier, support in setting it up PLUS a cooking experience by a Thermomix consultant.
https://www.rafflelink.com.au/nmba-thermo-raffle