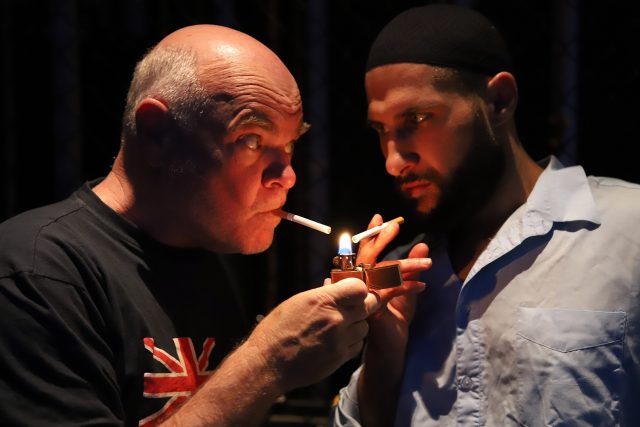 When:
November 23, 2018, 11:00 @ 11:00 AM – 11:00 AM
2018-11-23T11:00:00+11:00
2018-11-23T11:00:00+11:00
Where:
Pioneer Theatre
14 Pennant St
Castle Hill NSW 2154
Australia

"a revelatory production…a fine revival of a great classic" (John McCallum, The Australian)
"this is an incredible play." (Australian Stage)
You're walking home around midnight. It's cold and dark and the streets are deserted. You're in a foreign country and your senses are on high alert. Suddenly, from nowhere, a stranger lurches from the shadows. "Got a light?"
Do you stop?
This is the situation that young Pakistani student Ahmed (Craig Meneaud) finds himself in when confronted by the unpredictable and ambiguous 'great white' Norm (Laurence Coy) in this special 50th Anniversary performance of Alex Buzo's sharp, entertaining and satirical 1960's classic, 'Norm and Ahmed'.
50 years since it's first premiere in Melbourne, Alex Buzo's tense two hander is alarmingly still relevant, confronting issues of racism, xenophobia, cultural difference and assimilation in a country that has perhaps changed little, perhaps a lot.
Norm, a Vietnam Vet, is eager to bestow the virtues of Australia's culture of alcohol, R.S.Ls and football on Ahmed; but his attitude makes the whole exchange seem more like a ludicrous citizenship test, which he hopes can only result in exposing Ahmed's lack of so-called Australian values.
Now is the perfect time to discover, or rediscover, this pioneering piece of Australian theatre.
One performance only, at the Pioneer Play Festival in Castle Hill, Friday, Nov 23rd. 11am.