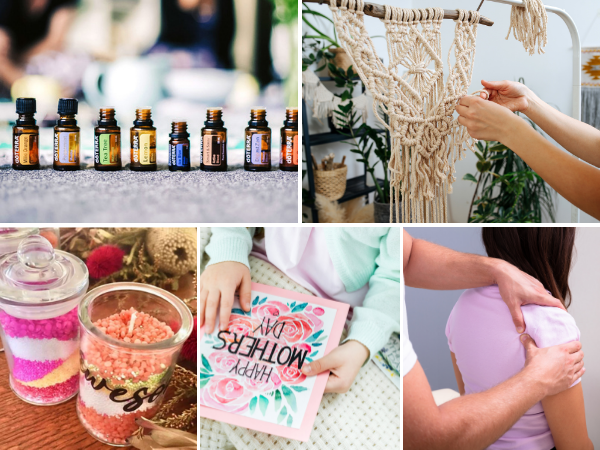 When:
May 3, 2021, 0:00 – May 9, 2021, 23:59
all-day
2021-05-03T00:00:00+10:00
2021-05-10T00:00:00+10:00
Where:
Plumpton Marketplace Jersey Rd & Hyatts Rd
Plumpton
Contact:
Plumpton Marketplace
99336400
Treat Mum like the Queen she is – Book her into one or all of our free workshops; bring her in for some retail therapy, a memento and a massage before taking a photo to remember your fun time together!
Capture the moment
Take a photo to cherish forever at our Mother's Day themed photo wall, in centre all week from Monday the 3rd to Sunday the 9th of May.
Macramé Workshop
Learn a new skill and create something for the home at our Macramé Workshops on Thursday the 6th of May at 5pm, 6pm and 7pm. Bookings are required.
Calligraphy for Mum
Whether it's a special message on a hand made card or a thank you note (that you bring along to our Calligrapher) to let her know how much she means to you, Mum will have a keepsake she will treasure. You can also collect a complimentary personalised affirmation card that will make her smile! Thursday the 6th of May from 4pm to 8pm.
Essential Oils Workshop
Using DoTERRA, one of the top brands for essential oils, you can create your very own oil suited specifically to your wants or needs. You will even receive a goody bag with your creation and other samples to take home. Workshops will run for 45 minutes on Friday the 7th of May at 10.30, 11.30, 12.30 and 1.30pm – Bookings required.
Candle Making Workshop
Spend some quality time with mum and create your own wax bead candles together… or attend our workshops with dad or grandparents to create mum a wonderful gift she will treasure. Workshops run for 30 minutes on Saturday the 8th of May at 10am, 10.45am, 11.30am and 12.15pm – Bookings required.
Free Shoulder Massage
We know that mums tend to carry the weight of the world on their shoulders so our massage angels will be onsite to provide mums with a FREE 5 minute seated shoulder massage from 1pm to 4pm on Saturday the 8th of May – no bookings required.
Gift Wrapping
Found the perfect gift? Have it wrapped to perfection by the volunteers from St Vincent de Paul Society Plumpton for a gold coin donation. Gift wrapping services will be available on Thursday the 6th of May from 6pm to 8pm and Friday the 7th of May from 1pm to 4pm.