Pioneer Pest Control Pty Ltd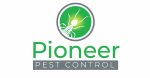 Business Name:
Pioneer Pest Control Pty Ltd
Short Business Description:
We at Pioneer Pest Control are a family owned and operated full service pest control Company. Located in Western Sydney for over 40 years we take care of all your residential, commercial and Industrial pest control needs.
With your family in mind we will kept them safe from pests!
Long Business Description:
Pioneer Pest Control Pty Ltd was established in 1979. A small family owned single operated company specialising in all your domestic pest control needs.
Today we have 4 vehicles on the road, 2 office locations and we specialise in all pest control needs from –
*Termite attacks
*German roaches
*rats/mice,
*spiders
*many many more pests.
We are environmentally, pet and family friendly. All technicians have decades of knowledge and experience. All insurances and licensing requirements are up to date.
Our phones are operating 24 hrs 7 days a week for all emergency advice, not a pest problem too big or too small. Call or message us today!
Send Message to listing owner
Listing Title: Pioneer Pest Control Pty Ltd