A convoy of local seniors headed to pre-polling in Penrith this week to protest proposed changes in aged care funding, which could see the end to their community transport service.
The community members use Active Care Network that provides transport for elderly people to access services with 11 vehicles ranging from cars to mini-buses in the Penrith Local Government Area.
Active Care Network CEO, Ben Jackson, said changes to funding could mean that the business can not operate or would have to charge its clients more.
"Our seniors are angry, angry that their services will change, will be more expensive or even cease to exist, under proposed changes in the current Commonwealth Home Support Programme (CHSP), which is block funded to deliver services to as many people as possible," he said.
"This is compared to the new proposed Support at Home Program, which will see the community transport sector funding changed, putting community transport services at risk."
Werrington County resident Anne Elliott uses the service weekly, and said she would not be able to use it as often if the price increases.
"I have never been able to get a taxi to my home and to catch the train or bus, there is a lot of walking and sometimes you spend two hours trying to get somewhere," Ms Elliott said.
"We pay for some of our trip, but it is great because you just call up and can be social and safely go wherever you need to whether it is for shopping, medical appointments, the bank or even Bunnings."
Lindsay MP Melissa McIntosh said she would look into how she could help.
"If I am re-elected, there is an open invitation for them to see me so we can discuss this," she said.
"I will always fight for our community, particularly for our ageing community and I will support them any way I can."
Labor Candidate Trevor Ross was not present to meet the residents on Wednesday at pre-polling, but said supporting elder Australians was a vital issue.
"We should be making it easier for people to stay independent and active in the community, not harder," he said.
"If I was privileged enough to be elected as part of an Albanese Labor Government, I would want to meet with stakeholders as soon as possible to talk about solutions."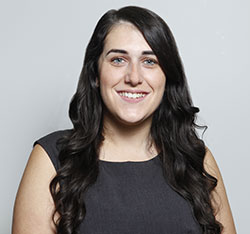 A graduate of Western Sydney University, Emily covers Local, State and Federal politics for the Weekender, as well as crime and general news.