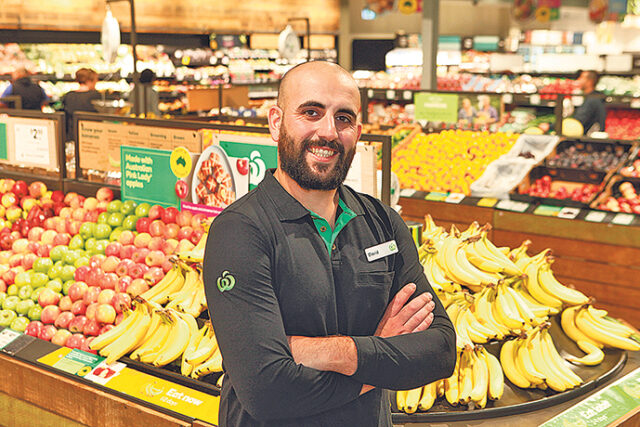 Woolworths are 'Australia's Fresh Food People' and has a huge team of passionate people dedicated to providing you with all your grocery needs.
The store at Eastern Creek Quarter (ECQ) opened in 2020 and is leading the way when it comes to fresh produce and excellent customer service.
ECQ Grocery Department Manager, David Haifa, made the move to work at Woolworths five years ago after running his own fruit and vegetable business for 15 years.
Just one of the many loyal faces behind the Woolworths brand, Mr Haifa said he loves his job.
"Woolworths are really committed to their team having a good work life balance, which is exactly what I need," he said.
"I love to see results and know that the work I do every day is not only putting food on the table for Australian families, but that I am also exceeding in my performance so I can do the same for my family.
"The customers are more like friends to me now and even if I don't know an answer, I will make it my mission to find the answer and help our customers in any way possible."
In the lead up to Easter, Woolworths has stocked all the food and supplies needed to let you enjoy quality time with family and friends.
"Because of my religious background, my family has given up meat for Lent, so we have been really enjoying eating fresh seafood over the last month," Mr Haifa said.
"I am very much looking forward to coming together as a family on Easter and cooking up some lamb on the barbeque and there is a recipe with a couscous salad and yoghurt dressing on the Woolworths website people can follow."
Mr Haifa said the shopping complex goes above expectations and is well worth the trip.
"There is so much on offer at ECQ from the ease of parking to the outdoor kids play area and big screen TV," he said.
"The Woolworths Everyday Rewards Program is also a great program for customers and there are daily offers available to ensure our customers always have value for money."
For meal inspiration, quality products and plenty more, visit www.woolworths.com.au. ECQ is located at 159 Rooty Hill Road South, Eastern Creek.