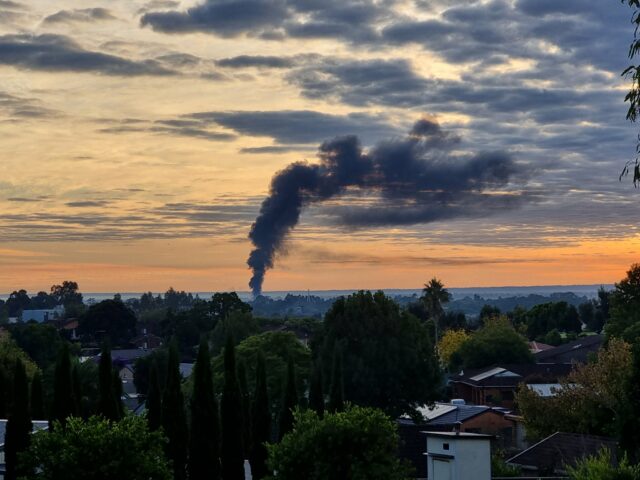 Fire and Rescue NSW (FRNSW) crews battling a hazardous materials fire at St Marys are urging local residents to remain indoors to avoid dangerous fumes.
The fire broke out around 6.30 this morning at a large chemical warehouse in Christie Street.
More than 130 firefighters and 26 fire trucks are at the scene trying to gain control of the blaze.
Aerosol cans are exploding within the site where a liquid petroleum gas cylinder is also alight.
The fire is producing a a large amount of fumes and FRNSW is advising residents to stay indoors and shut any windows.
The public is also being urged to avoid the area if possible.
EARLIER
Sirens can be heard blaring throughout Penrith this morning as more than a dozen fire trucks respond to a major blaze at St Marys.
A black plume of smoke can be seen rising from the factory on Christie Street, where the fire started just after 6am.
2GB Radio is reporting that at least one person is injured and is requiring treatment.
The Weekender understands the blaze is at a chemical storage facility and is extending into adjoining properties.
Some 20 fire trucks are responding with more than 100 firefighters on the scene.
Traffic around Christie Street and Lee Holm Road is heavily impacted and motorists should avoid the area.
Evacuations are taking place of nearby businesses.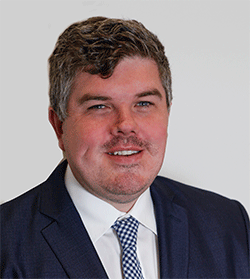 Troy Dodds is the Weekender's Managing Editor and Senior Writer. He has more than 20 years experience as a journalist, working with some of Australia's leading media organisations.