Watching the shocking scenes of Russia invading Ukraine might be hard for most Australians to grapple with when we are oceans apart.
But it is hitting a lot closer to home for Ukrainians living around Penrith, who are waiting and hoping for their loved ones' safety in the middle of the crisis.
Cranebrook resident Daria Alforova and her husband moved to Australia for a better life seven years ago when their daughter was a baby.
Ms Alforova said her family and friends are currently in the capital Kyiv while Russian President Vladimir Putin is trying to take control of the country that declared its independence in 1991 after being part of the Soviet Union.
"My brother has all of our elderly relatives including my mother and also friends' relatives who cannot travel, staying in a small basement of an apartment building as they live quite close to the centre of Kyiv and it isn't safe," she said.
"Thankfully they still have Internet, so we can contact them.
"They can hear explosions and the air raid signals. Younger men, who are our friends, have taken arms ready to defend, and the women are making Molotov cocktails if they need them."
With desperation in her voice, Ms Alforova said she feels immense guilt over not being with her family during the war.
"I am proud of all the heroic Ukrainians doing whatever they have to do to defend, but I feel so guilty I am not there to support my family. I am worried sick," she said.
"I don't know what the plan of a sick person is. It is a huge organisation and lots of people are brainwashed and support him [President Putin], so we are just waiting to see what happens."
Dennis Farafonov from Penrith said it is a surreal situation as he tries to stay in contact with his family from Kharkiv.
"My Aunt, Uncle, cousin and her husband have escaped towards the Romanian border but any men between 18 and 60 cannot actually leave the country under martial law," he said.
"Unfortunately, my grandmother has dementia and hasn't left her apartment in the last five years, so she refused to go with them, and we have lost communication with her."
Prime Minister Scott Morrison said Australia would commit an initial $70 million towards defensive support in Ukraine and $35 million to international organisations for shelter, food, medical care, water and education support.
"There is no justification for these actions in Ukraine which are illegal, unjustified and unprovoked," he said.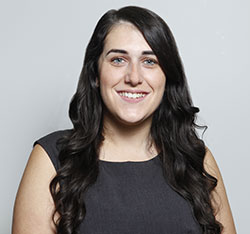 A graduate of Western Sydney University, Emily covers Local, State and Federal politics for the Weekender, as well as crime and general news.