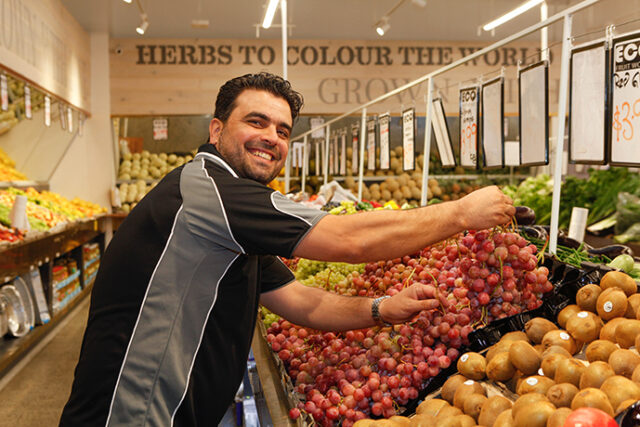 ECQ Fruit World has the freshest and most delicious fruit and vegetables for all your cooking needs.
The store also sells international food and spices that will have your mouth watering.
Operating at Eastern Creek Quarter since it opened in March 2020, owner Mouhammed Yaghi said he has a passion to help provide quality goods to the community.
"Both my brothers are also greengrocers, so the passion has always been within the family," Mr Yaghi said.
"It has become second nature to be at the Sydney Markets at 2am sourcing the best produce to bring back to the store for our customers."
Customers can come directly to the conveniently located store so they can touch and feel the fresh produce and have any questions answered by the friendly team of staff.
ECQ Fruit World is also working on providing an online delivery option to make it even more convenient for customers to access the great range of products.
Priding themselves on quality customer service, Mr Yaghi said they have the freshest produce in the area with the lowest price.
"I make sure I am at the markets first thing in the morning, sourcing the best produce and getting the best possible price, which I can then pass on to my customers," he said.
"I have worked hard on creating good relationships with local farmers who deliver directly to our store from cucumbers, mushrooms to chilli and dragon fruit.
"We even have customers coming from Penrith and Richmond specifically for our fresh produce."
Enjoy a day out and see what western Sydney's newest retail, lifestyle and entertainment destination has to offer.
Eastern Creek Quarter (ECQ) is also running a promotion where you can win up to $2,000 in Woolworths Gift Cards.
Simply spend over $35 or more on specialty fresh food or $100 at Woolworths, download the ECQ Rewards App, click on the 'competitions' tab and enter!
For the next four weeks, you can go into the weekly draw to win 1 x $500 Woolworths Gift Card.
For more information, visit www.easterncreekquarter.shopping.