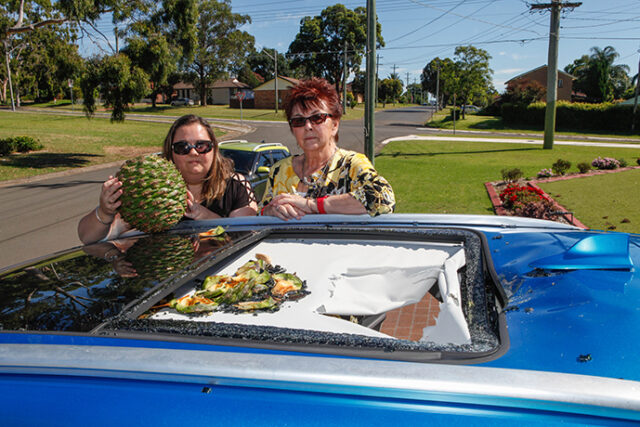 An Emu Plains resident is warning other locals after she was involved in a freak accident that could have been deadly.
Shenoa Mitchell was driving home on the Great Western Highway on Tuesday, February 8 at around 3.45pm with her daughter when a cone from a Bunya Pine smashed through her sunroof.
The trees that line the road within the grounds of Emu Hall can grow up to 50 metres in height and grow pinecones full of seeds that can weigh around 10kg.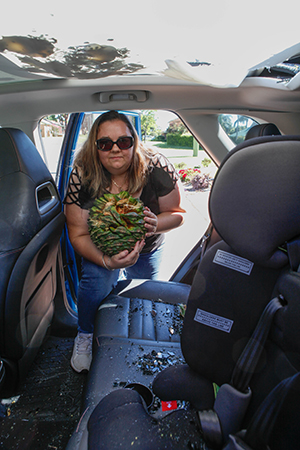 Ms Mitchell told the Weekender she had no idea what happened when the incident initially occurred with the cone weighing nearly 6kg.
"We heard what we thought was an explosion and then as we drove past the lights at River Road it must have rolled forward from my roof and down onto my arm rest," she said.
"It happened so quickly that I had to pull over to get my composure and check on my daughter. She had a couple of scratches on her arm but was OK."
With Bunya pines randomly dropping their cones from December to March, Ms Mitchell said there needs to be a warning to prevent further accidents.
"I spoke to the manager at Emu Hall who said he had been hit by one but was informed by Council that they are heritage listed trees that are not to be touched," she said.
"If that is the case then there needs to be signage or even just maintenance to remove the cones because it was quite heavy and the size of basketball, so if that hit someone on the head, I think the force could kill them."
The Weekender contacted Council for comment. It is currently looking into the matter.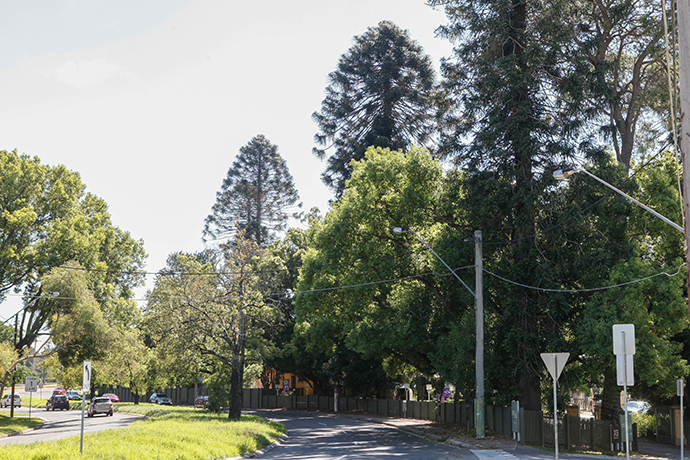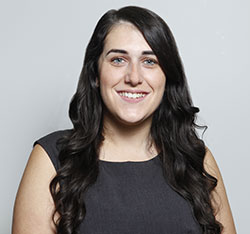 A graduate of Western Sydney University, Emily covers Local, State and Federal politics for the Weekender, as well as crime and general news.