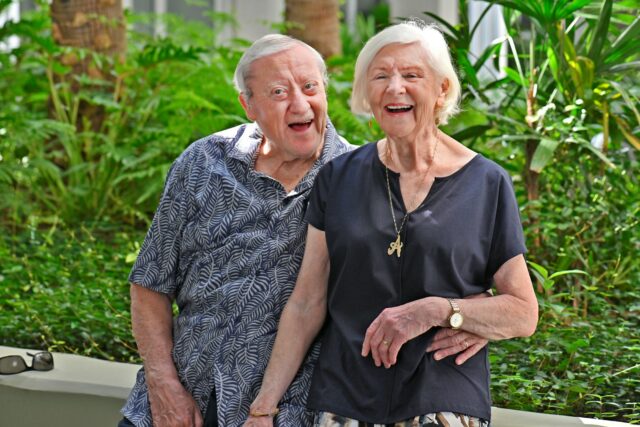 A Valentine's Day morning tea and lunch at the Nepean Rowing Club is on the agenda for Don and Anne Holley on the most romantic day of the year.
Mr and Mrs Holley have been living in Thornton Park Retirement Village for one and a half years now and have never looked back at their decision.
They met in a dance hall in Glasgow, Scotland in 1966, married two years later and shortly after the birth of their first son they hopped on a plane and made their way to Australia, in search of a sunny, warmer climate.
After 50 years in a large suburban home and raising their two children, Don and Anne felt it was time to downsize.
"It was alright when the kids were young you know but it was time to go," Mr Holley said.
Mrs Holley added: "he [Don] couldn't help me with the work and my son lives in the city so it was time. My son was always telling me to look around. We made the right move. This is a nice social place, and we needed that. We don't feel alone here."
What's the secret to a happy marriage after retirement?
For Don, it's "just shut up and don't say too much," he says laughing.
For Anne, it's doing things together "play music together, do jigsaws together, going out and about."
Their love of music stems from early in the relationship. Don was in a band and Anne was his roadie.
So, what are the couple's plans for Valentine's Day? Morning tea with fellow residents in the village followed by lunch at the Rowing Club.
"I wouldn't have anybody else, she's my Valentine, even though I'm not getting her anything!" Mr Holley joked.
"He'll take me out on Saturday and buy me a nice dinner, he always pays for my nice dinners, I don't take my purse with me," Mrs Holley added.