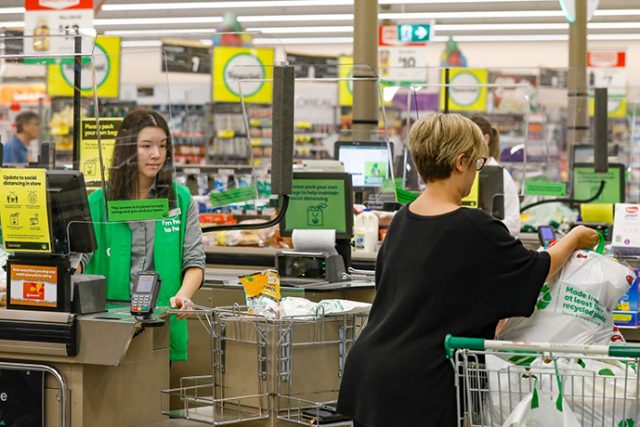 Supermarket giant Woolworths says it is "not clear" how long supply chain issues will last, urging customers to be patient as empty shelves and missing products become a daily occurrence.
Coles and Aldi are experiencing similar problems.
"As we welcome in 2022, it's clear that we are entering a very different phase of COVID, not least because of the high levels of community transmission associated with Omicron," Woolworths CEO Brad Banducci said in a letter to customers.
"When you're shopping with us at the moment, you might unfortunately have noticed gaps on shelf, or substitutions in your online order. Unlike the surge buying of early 2020 (who could forget the toilet paper), this is because of the number of people in our supply chain in isolation – from suppliers to truck drivers and distribution centre team members – which in turn is causing material delays to store deliveries.
"To give you a sense of the magnitude of the challenge, we are experiencing COVID-driven absences of 20%+ in our distribution centres and 10%+ in our stores."
Supply issues at a Sydney Woolworths store. What's wrong with kiwi fruit ?! pic.twitter.com/epUtZJi9Yr

— Lara Hyams (@Lara_Hyams) January 6, 2022
Mr Banducci said Woolworths was trying to get products back on the shelves as soon as possible.
"We have more than enough stock in the system and plenty more coming. We also have good supply within each 'category' of product (even if your favourite isn't available, a good alternative hopefully should be), so it really helps if you can be flexible with the choices you make. We would of course also ask you to keep shopping as you normally would and to continue to show kindness to our teams," he said.
"If you're shopping online, as a temporary measure we are automatically activating substitutions on all orders. We know this isn't ideal, but it does mean there's less chance of missing out on something you really need. We'll revert to your preference as soon as possible."
Coles has implemented purchase limits on products like mince, chicken breast, chicken thigh and sausages.
The supermarket issues come as the NSW Government struggles to handle the spread of omicron, with some suggestions that a number of restrictions will be re-introduced as early as today.