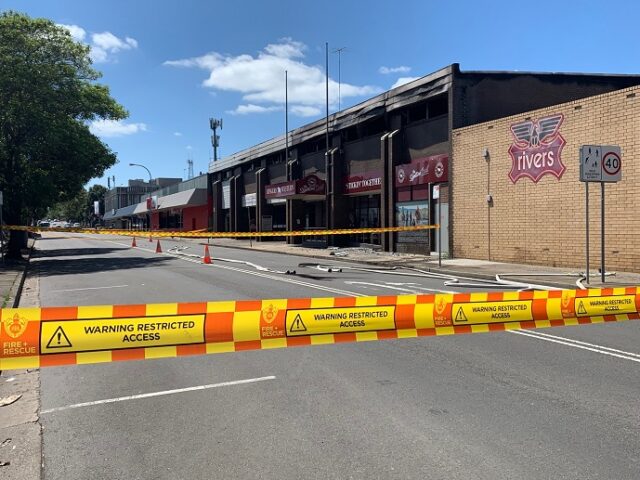 Local community organisations have been dealt a crushing blow in the lead up to Christmas after a commercial and retail building in the Penrith CBD went up in flames overnight.
More than 80 firefighters from Fire and Rescue NSW (FRNSW) spent hours extinguishing a large blaze at the Community Connection building, located at 114-116 Henry Street, Penrith.
Around 1.20am this morning emergency services were called and found the two-storey building well alight with flames leaping 15 metres into the air.
FRNSW said the building sustained significant structural damage, with firefighters fearing part of the building, which is owned by Penrith City Council, might collapse.
Henry Street has been closed from Woodriff Street to Station Street, with road closures expected to remain in place until the site is secured and assessed by engineers.
The Weekender understands the fire may have started from an extraction fan which was being used in one of the offices impacted by the recent heavy rainfall.
Penrith City Council General Manager, Warwick Winn said he was saddened to hear about the fire.
"This property houses a number of community services that deliver a variety of support services to our residents," he said.
"To minimise the impact to these businesses Council is working to relocate them to other premises across the city."
Westcare Community Services Director, Andrew Paech told the Weekender they are working to replace supplies for their Christmas appeals.
"We had our admin office and emergency relief service there so we lost 60 Christmas hampers, which were ready to go today, plus five commercial fridge and freezers full of food," he said.
"We are pushing on and trying to replace it all but I feel for the other grassroots community organisations that also have to respond to such a challenge."
CEO of NADO Disability Services, Denise Heath, said it was a shame to lose the space for community services.
"We had six staff working from there providing support coordination, who will work from other sites or home, but we are just glad no one was injured or worse," she said.
"The building has been a tremendous place for allowing services to connect and collaborate, so it has been quite a shock with the damage."
Recently opened country clothing store Ringers Western, which occupies the ground floor, is also closed as a result.
The cause of the fire is under investigation, and anyone with information or dash cam vision from the area at the time, is urged to contact police at Crime Stoppers: 1800 333 000 or https://nsw.crimestoppers.com.au.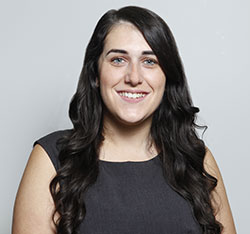 A graduate of Western Sydney University, Emily covers Local, State and Federal politics for the Weekender, as well as crime and general news.