Last week, many of us would have felt like we'd seen a ghost. Dr Kerry Chant was back in the news. Maybe I've not been watching as much TV lately, but there was a time when our Chief Health Officer was everywhere.
In the COVID celebrity stakes, she was Beyonce. As official bearer of the "health advice", she enjoyed top billing next to Gladys Berejiklian; her every utterance parsed.
While the health advice always felt rather malleable, things are different now Dominic Perrottet is in charge and has made clear it's merely one input to the government. Such that it's a surprise when Dr Chant is even allowed out.
At a time when "freedom frothies" are all the rage and we've been encouraged to let loose, anybody injecting a note of caution can be seen as a scold.
Yet there she was last Wednesday, just as COVID cases were starting to soar. On the same day QR codes, density limits and restrictions on the unvaccinated were removed – and mask mandates scrapped in most settings including supermarkets and shopping centres – Dr Chant admitted she was not fully on board.
"I am strongly recommending we keep masks and I'm asking the community to do so – it's a very tiny act and you're actually protecting yourself, but more importantly you're protecting others," she said.
To be fair, Dominic Perrottet's COVID policies have largely received bipartisan support. But these weren't the ramblings of some dotty aunt. Unencumbered by politics, the Chief Health Officer was doing her best to warn people.
It's not before time. There has been a near total absence of public health messaging as Omicron has arrived.
On December 7, our state had 260 daily cases. On December 17, that had risen to 2,213. The government is now calmly canvassing 25,000 new cases a day by the end of January. It's unclear how much is Delta and how much Omicron – and there is still so much the scientific community doesn't know.
Yet by unilaterally disarming NSW just as a new variant is starting to peak, it feels like our leaders have misread the public mood.
By week's end, new doubt was creeping into people's Christmas plans. Weekend barbeques were cancelled and a friend I'd planned to see a show with suddenly texted: "I'm feeling like COVID is closing in, so no pressure if you're uncomfortable going ahead".
We've all been looking forward to Christmas, perhaps seeing elderly relatives for the first time in months. Some of us have trips planned.
High testing rates show we want to be cautious.
If people are adapting their behaviour in response to a fast-changing variant, why isn't the government?
We have to accept there will be variants. Nobody wants to go back to being cooped up.
But continuing to wear masks, check in at venues and show our vaccine status are small sacrifices if they help stop the spread.
With a new Premier behind the steering wheel, many would feel more comfortable with Dr Chant in the passenger seat (ideally with instant access to the driving instructor's brake). And it's because there simply has to be a space for evidence-based public health.
It's an enormous privilege to write this column for readers in Parramatta and Cumberland every week.
My best wishes for a safe Christmas and New Year.
That goes for you too, Dr Chant – because something tells me your services will be needed in 2022.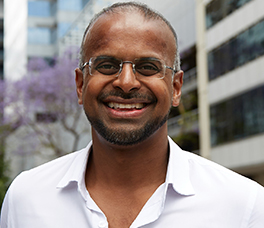 Alan is a strategic communications specialist. He writes a weekly column for Parra News.