Five successful women from across the Penrith LGA have been recognised by being named finalists in the 2021 Western Sydney Women Awards.
Cranebrook speech pathologist, Emily Mackie said she is humbled to be nominated for 'Entrepreneur of the Year' which will be awarded at the virtual ceremony on Tuesday, November 16 at 6pm.
"It is very exciting to represent my profession and women in the western suburbs," Ms Mackie said.
"It is so great for like minded women to be brought together to connect through these awards."
Melanie Holdsworth from Claremont Meadows, who is a member of the Senior Executive team at Teachers Mutual Bank Limited said the 'Women in STEM' award that she is nominated for is  significant.
"I have often felt like a fish out of water in the STEM industry so winning this award would demonstrate how far I have come in terms of my own learning, and as an industry," Ms Holdsworth said.
"I really want to encourage women of all ages and abilities in Penrith to get involved in STEM as it can open so many new opportunities for them."
Penrith volunteer, Robyn Taylor said it would mean a lot to the team at the Burbaga Burawa program if she won the 'Indigenous Changemaker' category.
"It would mean a lot to our community. They are an amazing mob that has become one big family," Ms Taylor said.
"It would be amazing to grow our presence and source more support for the program to continue running it for many years to come."
With over 30 years experience, Christine Grima-Farrell from Glenmore Park who is a finalist for the 'Educator of the Year' award said recognising western Sydney women's achievements is vital.
"It is important to recognise the dedication and commitment of individuals and teams," Dr Grima-Farrell said.
"This can contribute to enhancing collaborative opportunities, resource sharing and potential united pathways that make a difference to our communities."
Glenmore Park architect, Farah Madon said it is an honour to be nominated for the 'Executive of the Year' award for her work advocating for accessibility for people with disabilities.
"Winning would mean bringing more focus on issues faced by people with disabilities to the forefront which I hope would result in even more inclusion," Ms Madon said.
"That being said, I would be very happy if either of my fellow nominees win as they are also truly deserving of being recognised for the work that they do."
For more information or to watch the awards, visit www.westernsydneywomen.com.au/awards2021.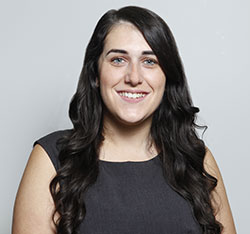 A graduate of Western Sydney University, Emily covers general news and politics for the Weekender.