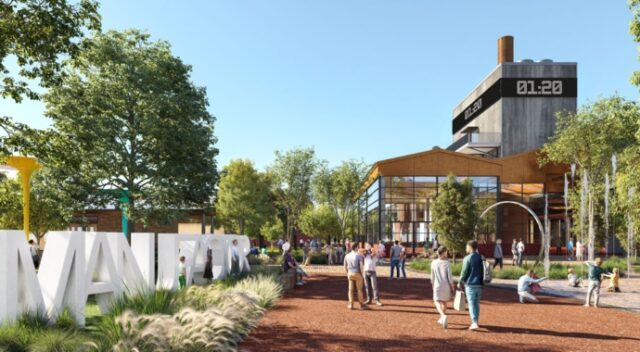 A 12-hectare industrial site currently being re-developed in Penrith has attracted a range of tenants in recent months – from food companies to steel product manufacturers – with lease commitments covering more than 10,000 square metres.
Sydney based property group, Aon Ari Property, is leasing areas from 500 square metres for manufacturers of Australian products in their own bespoke premises on the site, located at 2115 Castlereagh Road, Penrith, formerly the Crane Copper Tube factory.
Tenants who have leased bespoke manufacturing spaces include Ribs & Roast, which will cook a range of niche products for the retail and wholesale markets in a 3,600 square metre facility which includes an industrial outlet open to the public, while plant-based meat company Harvest B will also open a 750 square metre food preparation plant in January 2022.
Other food and drinks groups to manufacture on-site include Delice Bakery and Delice Gin Distillers, part of Masala Group, Brisket Boys and Drink West Brewery.
Meanwhile a range of building materials groups have taken out leases on the site, including Vo Homes, We Love Paquet and Reo Steel, while Capral Aluminium is already on the site.
Principal of Aon Ari, Mr John Joannou, said "We are attracting a variety of manufacturers to their own bespoke premises in our range of eight buildings on the site, where products are made and sold, with the manufacturing process showcased.
"We are creating a new hub in Penrith's manufacturing sector and attracting hundreds of jobs to the site, which lay dormant for the last seven years after Crane discontinued its operations, with the end value of the project expected to be worth $300 million", he added.
Aon Ari has established a new brand "Manufactor" to promote Australian made products manufactured at the Penrith facility, which Mr Joannou said would be the first of several planned to be developed across Sydney.
He said "We are passionate about re-invigorating manufacturing in Australia where we can accommodate manufacturers to both create their products and sell them directly to the public on the same site".
AonAri is restoring the buildings, with one formerly dedicated to re-melting processes of copper and casting it into copper billet for extrusion, being transformed into a museum, as well as a research & development centre.