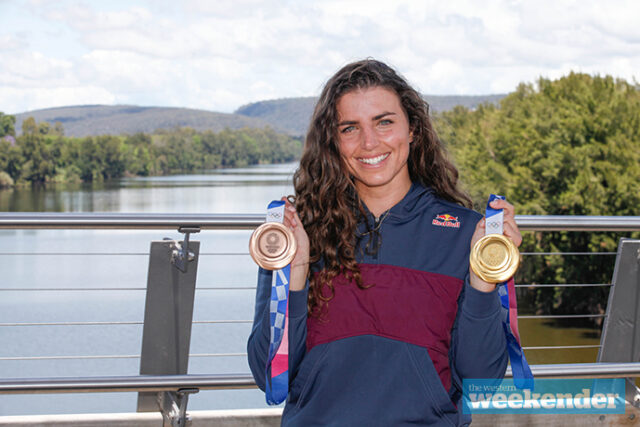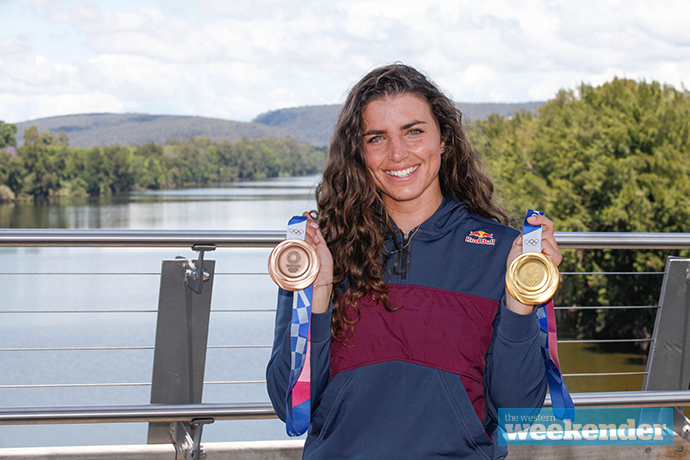 Whether it's visiting her favourite coffee shop, grabbing some delicious Thai takeaway or getting cuddles from her beautiful greyhound, Olympic gold medallist Jessica Fox is loving being back in Penrith.
After five months abroad doing what she does best, the 27-year-old finally returned home last week with two very important prized possessions in hand.
On Monday morning, during an exclusive interview and photo shoot with the Weekender, the paddling superstar proudly showed off the elusive C1 Gold medal and K1 Bronze medal she won at the Tokyo Olympic Games.
Just about every Australian will remember where they were that afternoon in July when the bubbly girl from Leonay bounced back from disappointment 48 hours earlier to become an Olympic champion.
"Firstly, I want to thank the Penrith community for their support during the Games. I received so many pictures of kids dressing up, artwork, school projects etc when I was away," Fox said.
"When I stopped by to collect my Thai takeaway the other day, I noticed Southlands Shopping Centre put up some posters congratulating me. It's just been so cool and I appreciate all the love."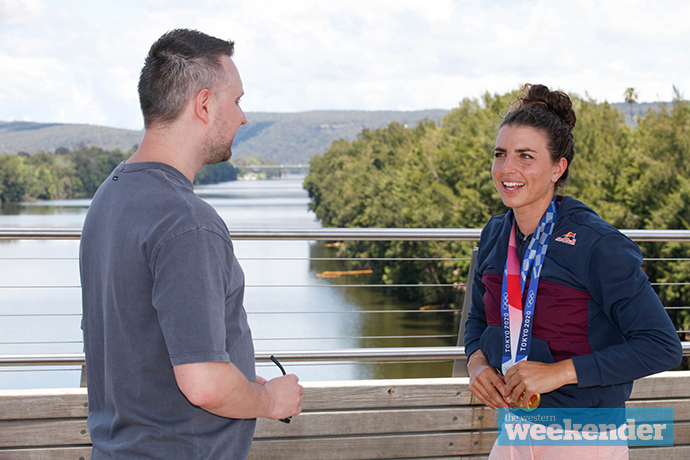 Before Fox's recent triumph in Tokyo she was already a recognisable figure around town but, since winning Olympic Gold, her stardom has skyrocketed and she's certainly noticed it out and about.
"It's really nice at the moment because, even though it's been three months since the Olympics, people still have it on their minds. So, when I bump into people they tell me where they watched it or who they were with or what they felt during it – it's really nice to be able to connect in that way and hear how they enjoyed the Olympics," Fox said.
"I was recently at a local shop and I was talking to a staff member about a particular product and out of nowhere they said 'by the way, well done'. It's quite funny because I don't think they recognise me and then they'll say 'congrats on the Gold'," she laughed.
It's been a huge year for sport in Penrith in 2021. Despite a dreary winter spent in lockdown, our spirits were certainly lifted by the likes of Fox and of course, the Penrith Panthers.
Fox said she's thrilled to be home, just enjoying the little things in life.
"I was excited to see our greyhound Miss Pink and my Dad, of course, as I hadn't seen him for a while," she said.
"I'm just enjoying getting back into the community and frequenting the coffee shops, like Underground Coffee Roasters, after training – just doing all the things I would normally do.
"I've also noticed some changes around town too, like the roadworks on Mulgoa Road have finally finished and it's really nice seeing the Panthers premiership signs everywhere."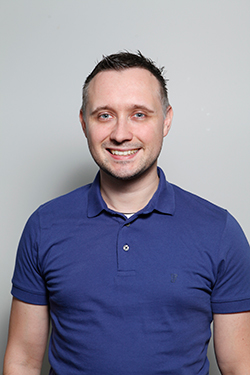 Nathan Taylor is the Weekender's Deputy Editor and Senior Sports Writer. He also compiles the weekly Chatter on the Box TV column. Nathan is an award-winning journalist, who has worked at the Weekender for a decade.