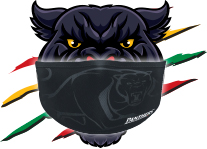 Bunnies fans focus on match officials
It's been bizarre to watch South Sydney fans obsess over match officials in recent weeks.
Instead of celebrating being in the Grand Final, so many of them have been fixated on Grant Atkins being a member of the Penrith Referees Association and last weekend's blooper by Gerard Sutton to allow Nathan Cleary to take a kick from the wrong spot after a try.
Even Souths owner Russell Crowe, with his 2.7 million Twitter followers, jumped on the bandwagon to have a whinge about the Cleary kick, which eventually missed anyway.
I'm not sure what's got Rabbitohs fans so salty, but it's been very odd and as NRL Head of Football Graham Annesley said this week, it's an unhealthy obsession.
Explain this ( as reported by @FOXNRL @FOXSportsNews )…

See where the try is scored?
See where the kick is taken from? pic.twitter.com/BgYhk2W1lk

— Russell Crowe (@russellcrowe) September 26, 2021
Reigniting old memories
Penrith 2003 Premiership hero Scott Sattler and former Souths forward Ethan Lowe this week gathered at King George Square in Brisbane to add to the rivalry of Grand Final Week.
Lowe is best known for winning a Premiership at the Cowboys but with border restrictions in play it was slim pickings to find a Rabbitohs legend living in Queensland who was available.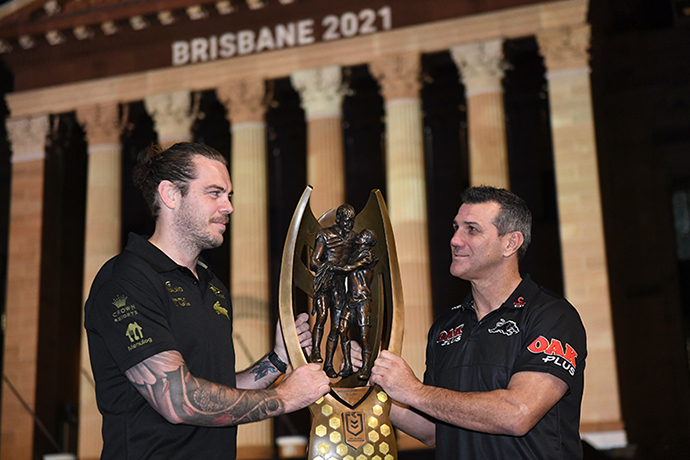 Panthers fans still celebrating
While it's been disappointing to not have the same level of Grand Final celebrations we would have enjoyed had lockdown not been in place, there's still plenty of Panther-themed fun happening around town.
Not only have plenty of houses and cars been decorated, but there's some tasty treats doing the rounds too.
Percy Plunkett will have Panthers-themed donuts on offer across this weekend, while Mrs C's Cupcakes has been pumping out Panthers cupcakes.
COVID chaos to continue in 2022
If you thought COVID-19 caused drama across the 2020 and 2021 seasons, get ready for a whole new ride in 2022. Vaccination rules are set to dominate the headlines, with a small percentage of players across all clubs refusing to get the jab.
It'll create headaches around interstate and international games, flights and more. NRL CEO Andrew Abdo has a huge off-season ahead of him to settle on what the code has to implement to ensure it can proceed with as little disruption as possible. A vaccine mandate is off the table.
May has plenty to learn
Talking of COVID, young Panthers rookie Taylan May should probably stick to football.
The 20-year-old took to Instagram earlier this week, sharing a post labelled "Dear vaccinated". The post speaks about the government "robbing people of freedoms" and questions the COVID-19 vaccines.
"The government has lied to you," the post says, in part.
May is a talented young footballer but he's clearly got some growing up to do.
Local celebration likely to be arranged
Panthers Leagues Club is set to re-open on October 11 and several weeks later even more restrictions will ease.
While they'll have to work around player holidays, I'm told discussions have started about a way to hold a local celebration in the coming weeks should Penrith win the title on Sunday.
Try was five months in the making
The try scored by Stephen Crichton from a Nathan Cleary kick in the opening minutes against the Storm last Saturday was five months in the making.
The Panthers noticed a 79th minute Matt Ikuvalu try in the Roosters' loss to the Storm back in Round 6, scored off a James Tedesco kick from dummy half to the right side of the field. They implemented the same play in the Preliminary Final and caught the Storm out.
Genius coaching and even better vision from Nathan Cleary.
Staines, Leniu have clouded futures
There was some talk over the weekend about the long-term futures of Charlie Staines and Spencer Leniu.
Staines is signed until the end of the 2023 season but has certainly been a victim of second year syndrome this year. The Panthers are still confident the 20-year-old has a strong career ahead of him, but I'm told if a big offer came his way, the club wouldn't stand in the way of him taking it up – and would benefit from the salary cap space it would free up.
Leniu is also off-contract at the end of 2023 and is desperate for more game time, which he may get next year with the departure of Kurt Capewell. 2022 is likely a career-defining season for the 21-year-old.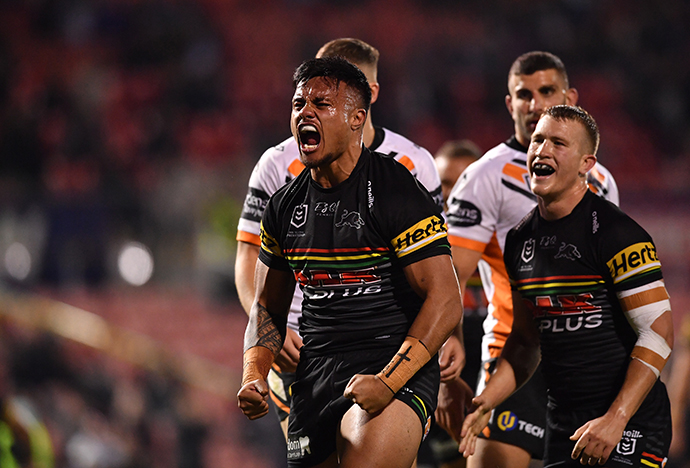 Live site too tough in lockdown
Discussions about a live site in Penrith definitely took place between Panthers CEO Brian Fletcher and Penrith State MP Stuart Ayres this week.
It would be up to the Panthers to submit an exemption request to hold such an event. While Premier Gladys Berejiklian hosed down the likelihood of live sites on Monday, I'm told an exemption request was a chance of getting up.
However, in the end the logistics around holding such an event at short notice just weren't going to come together.
Flags to fly across city
Penrith City Council has installed Panthers flags across the city, proudly flying them ahead of Sunday night's Grand Final at Suncorp Stadium.
Satts expects plenty of Penrith support, but Bunnies to dominate
Panthers 2003 Grand Final hero Scott Sattler expects there to be plenty of support for Penrith at Suncorp Stadium on Sunday.
"I think Penrith will get a lot of support just by proxy. The western suburbs always represent the blue collar worker and I think there will be a lot of rugby league fans that will be going for Penrith," he said.
"Then you have those fans that aren't South Sydney fans that still love Wayne Bennett. It's going to be interesting how it plays out on Sunday. I think by sheer force of numbers the Penrith supporters will be heavily outweighed."