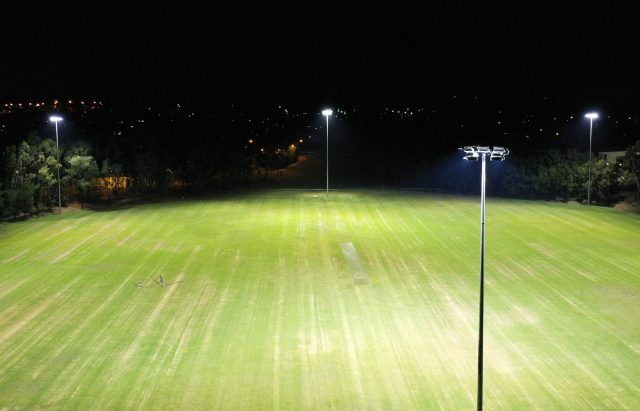 Penrith City Council will continue to light up sports fields across the LGA to give residents the chance to get outdoors and stay active in a COVID-Safe way.
Following the announcement made by the NSW Government yesterday confirming an extended lockdown period until Friday, July 16, Council will keep the floodlights on at 10 of its parks and sports grounds from 5pm to 8pm each night Monday to Friday.
While residents are reminded to stay at home, under the current Public Health Order exercising outdoors in groups of 10 or less is permitted.
Penrith Mayor Karen McKeown OAM said Council hopes lighting up some of the City's open spaces after dark will provide some respite from the lockdown and the opportunity to exercise.
"The response from the community when we first announced this was incredible, the feedback was overwhelmingly positive and was something that really resonated with the community," Cr McKeown OAM said.
"Council understands that the City is feeling the impacts of the pandemic and particularly with community sport postponed we want to give residents an option that is safe and adheres to current restrictions.
"After a long day of working from home and with students due to be kept home from school next week, this presents a great opportunity for families to go outside for some fresh air and exercise.
"During these challenging and unprecedented times, it is crucial that we remain positive – and exercise is known to promote general wellbeing within the community.
"We ask that all residents in our City continue to observe the NSW Government's orders and socially distance when using Council's facilities for exercise."
Lights will be on at the following locations from 5pm-8pm:
• Jamison Park, South Penrith – Netball courts only
• Jordan Springs – Netball and basketball court, and village oval sportsground
• Hunter Fields, Emu Plains – Netball courts and sportsground
• Myrtle Road, Claremont Meadows – sportsgrounds
• Ched Towns Reserve, Glenmore Park – sportsgrounds
• Mark Leece Oval, St Clair – netball courts only
• Mulgoa Park, Mulgoa – multi-sport court (Activation via push button under awning)
• Londonderry Oval – sportsground and netball courts
• Ridge Park, Colyton – sportsground
• Patterson Oval, Cambridge Park – sportsground
In addition to the venues listed above, Council has added another two venues to the list:
• Cook Park Cricket Oval, St Marys – Bill Ball Oval
• Mulgoa Rise Oval, Glenmore Park – northern field only