Glenmore Park residents Jim and Diana Dixon are hoping to raise awareness about the safety of above-ground pools after an incident in their street recently.
Their neighbour's above-ground pool very suddenly burst four weeks ago, with rushing water destroying their joint fence and causing flooding in their backyard and an influx of gravel and mud.
"I was standing around the side of the house, and I heard this almighty crash," Mr Dixon said.
"I ran around the corner and the fence was gone, there was a shed in my place, damage everywhere – gravel, water."
The pool held 44,000 litres, equal to 44 tonnes of water being released from the pool that flowed through the yard of the neighbour and into multiple adjoining properties.
Items from the yard with the pool were caught up in the flow of water, destroying Mr Dixon's fence and shed, and damaging parts of his backyard.
The Dixons spent the following weeks cleaning up their property, including replacing their fence, and removing gravel buried in the grass of their backyard. They are also planning to replace their shed.
The incident highlights a safety risk in the community that must be addressed, according to experts.
Above-ground pools are at risk of bursting if the owner is unaware of rusting.
"Usually, it's either the main braces have rusted out at the base, or the wall splits … and it's rusted on the inside but you can't see it on the outside," said Phil Price, owner of Phil Price Pools.
"When they burst, they actually just tear the wall, and the liner goes because it's too much pressure.
"It's usually an ageing thing … with an above-ground pool you've got a steel wall with a vinyl lining – it can rust between the liner and the wall, and you can't see it."
To avoid rusting, Mr Price says it is important to use a powdered chlorine to clean an above-ground pool, instead of a liquid one, which is a lot more corrosive.
"People don't maintain them, they're not forever," Mr Dixon said.
"I think they should be inspected every couple of years to make sure they're safe."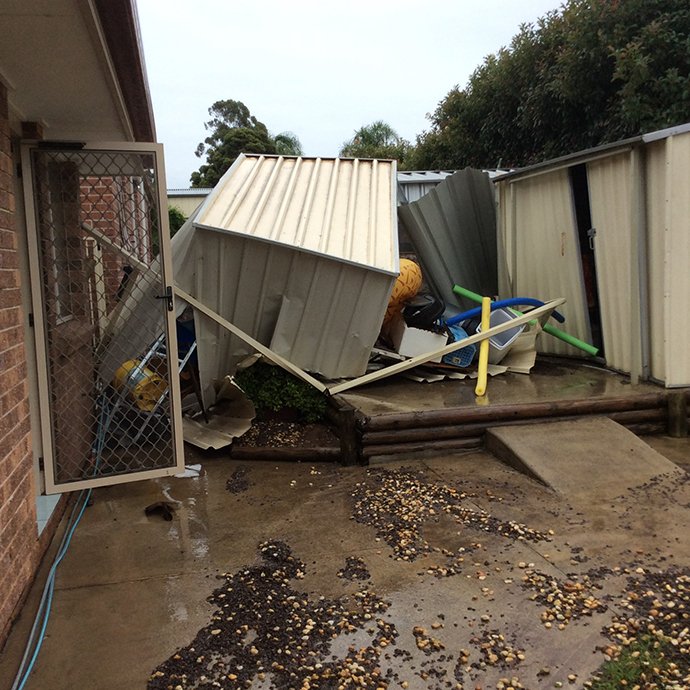 Erin Christie is the Weekender's entertainment and community news journalist. She has worked with Are Media, Good Reading Magazine and a host of other publications.