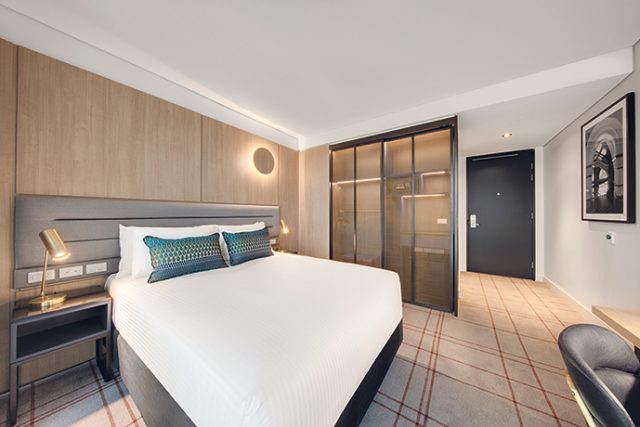 With a big few weeks in the office upon me, I was treated to a couple of nights in Darling Harbour to recharge the batteries and have a bit of 'me time' before a challenging period of work ahead.
Last month, I was whisked away to the top floor of the all-new Vibe Hotel Sydney Darling Harbour for two nights and boy, did it do the trick!
While my wife accompanied me for part of my stay, I was able to enjoy certain aspects of my trip solo, like a workout at the hotel gym as well as a yummy breakfast at The Sussex Store located on the ground floor.
Situated on bustling Sussex Street, Vibe Darling Harbour was Manhattan design chic meets Sydney style.
The hotel's 145-rooms feature playful design touches and array of perks. A mesh wardrobe, which references a Brownstone elevator, offers a New York loft feel, while semi-circular showers in each room create a sculptured corridor space that's unique to the property.
Speaking with the friendly and knowledgeable staff on site, they informed me that Vibe Darling Harbour's development and design teams drew inspiration from the historic Sussex Street location and had incorporated international design elements for added character.
Everywhere you look old and new meld together. Brickwork was chosen to fit the character of the street, and I'm told when you stand in some of the lower level rooms and look out of the enormous windows onto Sussex Street, it's this brickwork that frames the view and ties old and new together.
Vibe Darling Harbour is also home to Sydney's newest rooftop restaurant and bar, Above 319, which offers incredible sunset views over Darling Harbour and the city's inner west. I was even able to enjoy the same view from the comfort of the hotel's heated rooftop pool (pictured), which was adjacent to the bar area.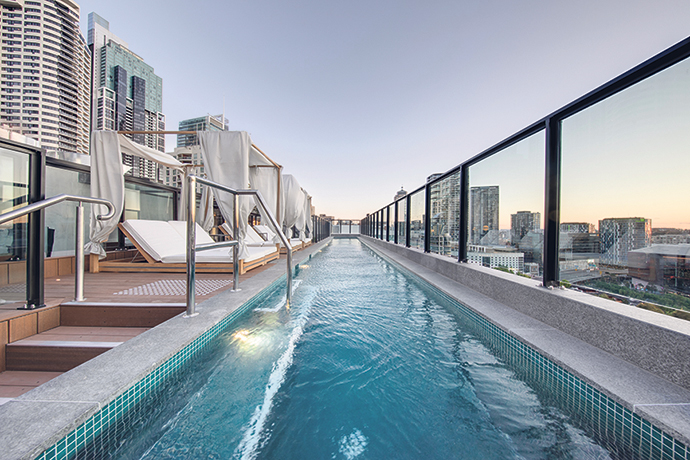 While Vibe Darling Harbour is one of the best CBD properties I've ever stayed at in recent years, I believe a hotel's location is just as important as the comfort of the bed and softness of the pillows.
Vibe Darling Harbour offers a convenient and vibrant location, right in the heart of the CBD. The hotel is perfectly positioned to explore the very best of what Sydney has to offer, such as shopping at Pitt Street Mall, Chinatown, International Convention Centre and the downtown entertainment precinct.
Vibe Darling Harbour is also a short walk to some of the best and most popular restaurants in Sydney.
For lunch, my wife and I dined at the world-class Nick's Seafood Restaurant at Cockle Bay Wharf. For years we've wanted to eat at this awesome open-air waterside establishment, and we were finally able to tick that off our bucket list on this trip.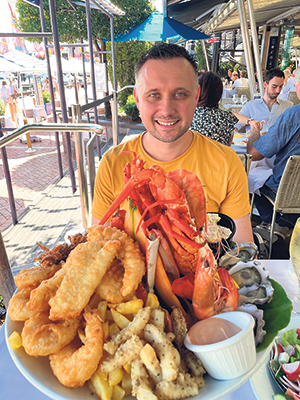 A landmark of the Cockle Bay promenade, Nick's 'sea to plate' philosophy showcases the superb flavours of Australian seafood. My wife and I went all out and ordered the Nick's Signature Seafood Platter (pictured), a towering feast of the ocean's finest luxuries including whole cooked lobster, freshly shucked oysters and succulent king prawns. If you only eat one seafood platter in your lifetime, make this be it!
Another superb restaurant we visited during our stay was Braza Churrascaria, an authentic Brazilian Barbeque house that serves world-renowned Australian meats.
Located at the fabulous Darling Quarter precinct – less than five minutes' walk from the hotel – Braza Churrascaria is an 'all you can eat' restaurant, with typical Brazilian service style known as 'Rodizio' where Passadores (meat carvers) rotate from table to table serving more than 20 different types of skewers.
While my wife and I left the restaurant a little bit heavier than when we arrived, the atmosphere was brilliant and the Passadores had great personalities and knowledge on the food, which only added to the unique experience.
Overall, my two-night stay achieved what it needed to – it helped me relax and recharge the batteries before a busy period at work and it also gave me the opportunity to be a tourist in my own city by sampling some of the best restaurants in town.
For more information on Vibe Darling Harbour and their latest offers, visit vibehotels.com. For details on the restaurants I dined at, visit cocklebaywharf.com.au and darlingquarter.com.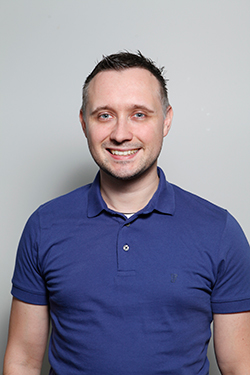 Nathan Taylor is the Weekender's Deputy Editor and Senior Sports Writer. He also compiles the weekly Chatter on the Box TV column. Nathan is an award-winning journalist, who has worked at the Weekender for a decade.