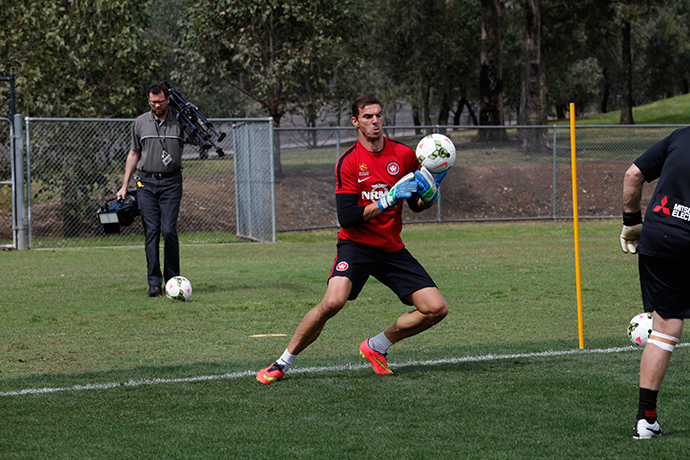 The Western Sydney Wanderers have announced the return of club legend Ante Covic as the club's Westfield W-League goalkeeper coach.
Covic returns to the club after a recent two-year stint at Marconi Stallions as goalkeeper coach.
The foundation player had a decorated three seasons in the Red & Black which saw him win an A-League Premiership and AFC Champions League as well as A-League Goalkeeper of the Year and Champions League Most Valuable Player.
Covic made a record 97 appearances for the Red & Black in the A-League, Champions League, FFA Cup and FIFA Club World Cup.
The new goalkeeper coach joins a Wanderers All-Star coaching line-up led by Dean Heffernan, working alongside club legends Michael Beauchamp and Catherine Cannuli.
Western Sydney Wanderers CEO John Tsatsimas welcomed Covic back to the club.
"We are delighted that Ante has returned to the club and taken up an opportunity to work with our Westfield W-League team," said Tsatsimas.
"Ante has left a lasting legacy at this club and we're excited to see him build a new legacy with our fantastic Westfield W-League team."
Covic said he was delighted to return to the club and is ready to share his wisdom with the next generation of goalkeepers.
"It feels good to be back on a few levels. The history I was part of for the first three years at the Wanderers, the memories and achievements can never be taken away. I'm coming back to a club that I loved and I've had a lot of good times at," said Covic.
"Since I've retired from playing professionally, I went into coaching straight afterwards. It was something that I always had a focus in doing and after 20 years as a goalkeeper, I have learnt a lot and have a lot to give.
"(The role) is an opportunity I am savouring as obviously the women's game is growing and the recent success of the Wanderers last year in the Westfield W-League.
"I want to be part of that success and hopefully we can go a little bit further this year. It's really exciting and it's back to a professional environment, so it's great the girls have got that opportunity in a facility like this with the coaching staff that have been there and done that."