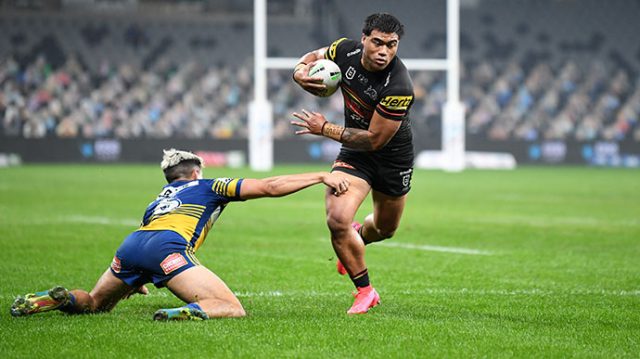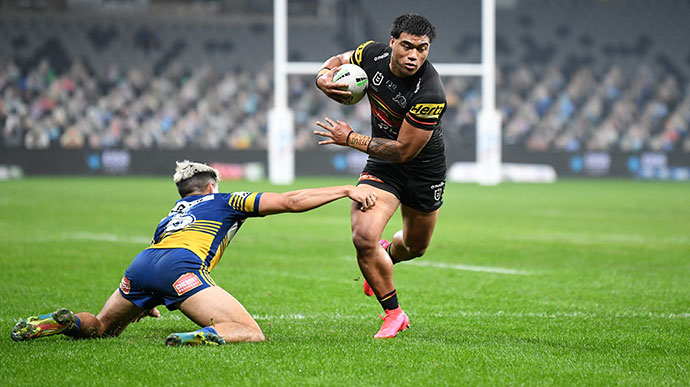 Dressed in a floral sarong and carrying a monster Bluetooth speaker blaring music from the islands, Panthers winger Brian To'o was living the life this week when the Weekender caught up with him.
Not only is his side sitting pretty on top of the NRL ladder, but last week To'o made a successful comeback from a serious ankle injury that required surgery.
The 22-year-old Samoan rocked up to training on Tuesday afternoon with not a care in the world as his side stares down the barrel of 12 straight victories.
Not only did To'o score a spectacular try in his return game last weekend, but he also ran for an astounding 224 metres – not bad for a guy that couldn't walk properly a month ago.
"I was a bit nervous coming back from injury, especially with how good the boys have been going lately," To'o admitted.
"I didn't want to break that cycle and all that form. It was a bit of pressure on my shoulders but lucky I came through."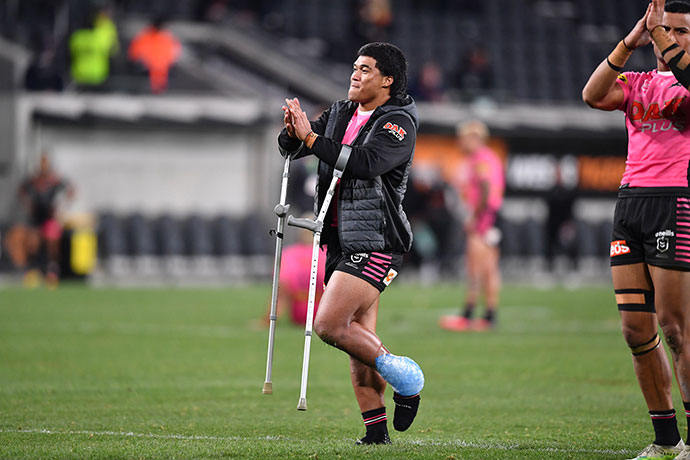 While he's only relatively new to the NRL, To'o is regarded as one of the happiest and most positive people in the game. So how did someone so upbeat and full of joy handle eight weeks on the sidelines while his teammates were tearing up the competition?
"I just kept smiling," To'o said.
"I always like to take some of the downfalls that I have in my life and turn them into something good.
"I don't know… that's just who I am… I'm always happy with everything and anything. I probably get it from my mum actually, she's a happy spirit."
During the 2019 Ben Alexander Rookie of the Year's stint in rehab, Ivan Cleary unleased another winger into the world that got everyone talking… Charlie Staines.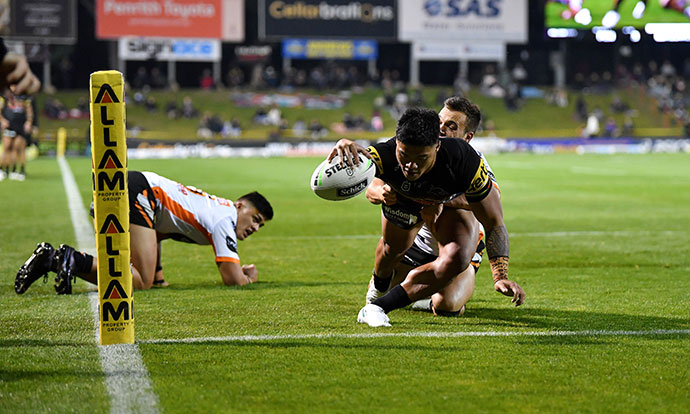 Filling in for To'o on two occasions, Staines scored a mindboggling six tries before succumbing to a month-long injury of his own. To'o said he was proud – not envious – seeing the likes of Staines and Daine Laurie shine in his absence.
"It was pretty cool, I was so happy to watch some of the boys because that was me last year," he said.
"Watching those boys debut, who I played with in the U20s, I was really happy. It was great they got to show everyone around the comp their full potential."
In just a matter of weeks, To'o and quite a few of his teammates will be lining up in their first ever Finals game. After an historic regular season, the expectation on Penrith will be huge this October.
"It's a bit nerve-racking thinking about Finals but we don't want to get ahead of ourselves," To'o said.
"We are going good right now, but we want to be better than good. It takes a lot of hard work and grinding, especially at training – that's where it all starts. In order to play good, you have to train good."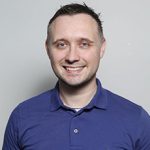 Nathan Taylor is the Weekender's Deputy Editor and Senior Sports Writer. He also compiles the weekly Chatter on the Box TV column. Nathan is an award-winning journalist, who has worked at the Weekender for nearly a decade.