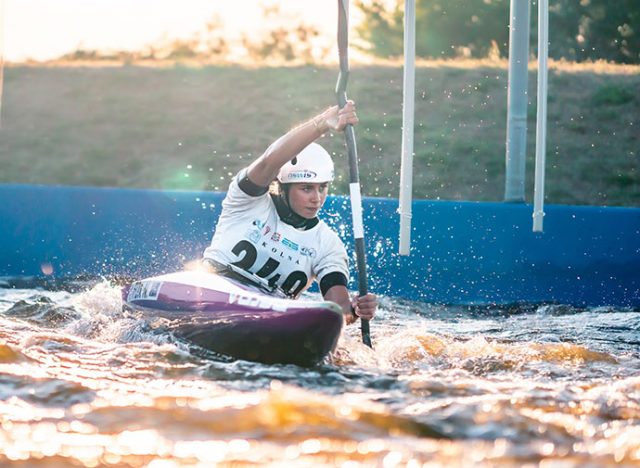 Noemie Fox grew up surrounded by sport, adventure and a love for the outdoors. A transient upbringing, travelling between France and Australia, exposed Noemie and her sister to sport and the myriad of experiences that come with it.
"We grew up at the whitewater stadium down in Penrith and then we would also spend a lot of time with them (Noemie's parents) in Europe when they were doing tours for the world cups with their athletes", Noemie said.
"We would travel with them, and my sister and I would just play and explore. It was a great childhood, when I think about those moments, because we were just always running around and going down rivers".
The rise of female athletes across the world continues to inspire Noemie, and she knows that people like herself and her sister, Jess, have the opportunity and responsibility to be positive role models.
"It's incredibly exciting and incredibly motivating to have so many young girls growing up with idols that are so accessible. I was really lucky to grow up with my Mum who was in the sport as an athlete, so I always had a vision of female athletes and what they're capable of", Noemie said.
The ability to inspire the next generation is hugely important, according to Noemie, and the true measure of success is how you hold yourself outside the sporting arena. Noemie, along with other AIS athletes, is part of the Bite Back program – an initiative which aims to build mental resilience in high school children.
"We deliver talks to kids in Years 7 to 10. I think it's really important, especially during these times, where there is a lot of uncertainty and a lot of doubt and complexity", Noemie said.
"What this (Bite Back) does, it gives us an opportunity as athletes to chat to kids and give them an outlet. We talk a lot about time management and resilience. I am honoured to part of such an important program".
Canoe slalom is a humbling sport and one that challenges the athlete's resolve and resilience. It's these lessons, according to Noemie, that can be carried beyond the water and into everyday life.
"There's a lot of perseverance, there's a lot of trying again – getting back into the kayak, emptying it out, getting back in. That same feedback culture is something that really carries me through in university and work as well", Noemie said.
"Always trying to improve little things about yourself and your performance and trying to have that high-performance culture, and giving your best, in whatever you do".
Find out more in the latest episode of the Passion & Perspective Podcast, hosted by Jonathan Robinson-Lees.