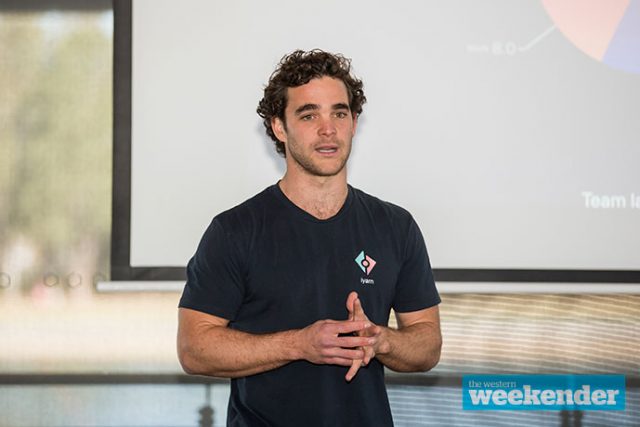 A new mental health app that promotes checking in with family, friends and colleagues was officially launched at the Sydney International Regatta Centre last Friday.
Founder of the 'iyarn' app, Lockie Cooke, is a former professional athlete and competed at the Regatta Centre for many years before suffering a career-ending injury.
During this time, Mr Cooke was exposed to some mental health challenges of his own and also lost a person to suicide.
It was then he knew he wanted to create something to better promote mental health awareness and stimulate important conversations around the country.
"A lot of things changed for me after that and really made me realise I need to be there for my loved ones," Mr Cooke told the Weekender.
"When leaving the funeral of a friend who had taken their life, my friends and I made a pact to check in with each other more.
"This was great to say but the reality was we really didn't know how to, so I really started thinking about how we can create safe spaces to do that."
Over the past four years, Mr Cooke has been working alongside tech specialists to create iyarn. The app is a customisable tool that can be used by corporate businesses or for personal use.
Users are able to allocate values that are important to them or the business and give personal ratings as to how they feel about them at any given time.
This provides data to map users' journeys and allows them to view others to check in on their friend, family member or colleague.
It also enables users or businesses to see what areas are lacking and create conversations as to how they can improve that.
"It's a social enterprise, with the vision to have corporations pay for the app to check in with their staff, which then allows it free to the public," Mr Cooke said.
"Imagine teaming up with a council, this app would really allow them to get a pulse check of the health of all their constituents."
The app has been trialled with Paddle Australia's Olympic Team over the past four months as well as Swimming Western Australia.
"We are offering a solution to people to connect socially while physically distancing," Mr Cooke said.
For more information, visit iyarn.com.
A graduate of Western Sydney University, Nicola Barton is a news journalist with the Western Weekender, primarily covering crime and politics.