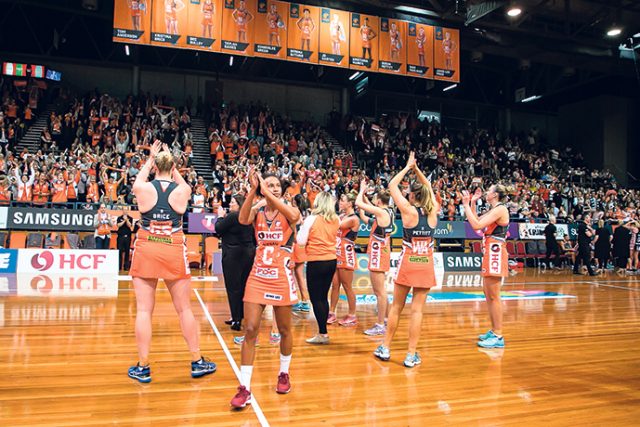 The much-anticipated release of the revised 2020 Suncorp Super Netball fixture has today been partially released with the league revealing the first six rounds.
With the majority of games, including finals, to be played in Queensland, the GIANTS have the opportunity to open the season with a bang in Sydney with two home games, plus a Swifts hosted NSW Derby in the opening rounds.
The GIANTS will begin their 2020 campaign when they take on the West Coast Fever on Saturday, August 1, in the first ever Suncorp Super Netball match at Ken Rosewall Arena in Sydney Olympic Park.
The team will then face two quick turn arounds with a mid-week NSW Derby against reigning premiers the NSW Swifts, before backing it up against the Adelaide Thunderbirds on Saturday, August 8.
The GIANTS will then head north where they will play the majority of their matches as part of a competition wide Queensland hub.
GIANTS Head Coach Julie Fitzgerald is thrilled and relieved to be getting the season underway.
"I am so excited and truly grateful to just be playing this season," she said.
"It's obviously disappointing not to be able to play a full season at home in front of all our members, but it's fantastic to see that the club has been able to secure a handful of games in Sydney before we fly out.
"Queensland, it is what is, and we had already discussed as a team that we would do whatever is required to get a season up and running."
"We're a team that loves being on the road and always have such good memories from away games which we hope we will be able to share with all our loyal members who continue to stick by us this season."
With the current restrictions in place, Ken Rosewall Arena can accommodate 25 per cent of its spectator capacity.
GIANTS Netball Members will be given priority access to attend the matches and will be communicated with directly in the coming days.
Should any tickets become available for the general public, the club will communicate this to fans via social media.
Due to the complex and changing nature of the border restrictions currently in place around the nation, the Suncorp Super Netball League has elected to announce the first six rounds of 2020, with the next phase of fixturing expected to be confirmed in mid-August.
All matches will be broadcast live on Nine, Telstra TV, and the Netball Live Official App.
GIANTS OPENING FIVE GAMES
V Fever – August 1, 3pm, Ken Rosewall Arena
V Swifts – August 5, 7.30pm, Ken Rosewall Arena
V Firebirds – August 15, 1pm, Nissan Arena
V Lightning – August 18, 7.30pm, USC Stadium
V Vixens – August 23, 1pm, USC Stadium