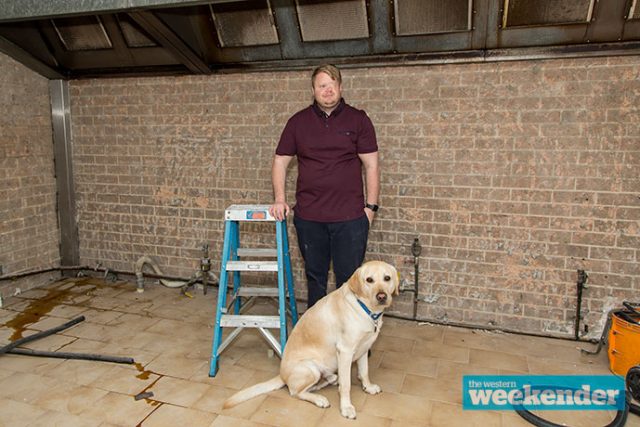 No challenge had been too big for legally blind chef Craig Shanahan, who began making his dreams a reality last year, as he set out to open a cafe.
After accessing his superannuation, he purchased the old Aroy-D Thai Restaurant on High Street, but when he was just days off securing a loan for the fit out of the store, the COVID-19 pandemic snowballed.
With his bank loan still on hold, Mr Shanahan is to continue paying his $6000 per month rent whilst on a $945 a fortnight disability pension as his sole income.
"Because the hospitality industry was so affected they are waiting to activate loans but there's no indication as to when that will resume," he said.
"It's been really stressful.
"I spent near $90,000 buying the business and on all the legal fees; I've got nothing left.
"Thankfully my landlord let me pay less rent over the pandemic but now things are going back to normal, he's got bills to pay too, so I'll be expected to pay the full amount."
Diagnosed with cancer at the age of two, Mr Shanahan tragically lost his left eye.
Not letting this hold him back, he studied Commercial Cookery at TAFE NSW and worked as a qualified chef for a number of years.
But when he was 23-years-old, tragedy struck again as he suffered a life threatening brain tumor and lost all vision in his other eye, leaving him legally blind.
This greatly impacted his ability to gain employment.
Mr Shanahan said the cafe means everything to him and is determined to keep the dream alive.
"It's not just about me getting a cafe, it's a job and my dream and it gives me a secure job for the rest of my life," he said.
"I really want to show everyone that you can follow your dream and also provide a space that is accessible for people with disabilities."
Inspired by his determination, some of his friends decided to start a Go Fund Me to help raise money to support him through this time.
"I'm not one to ask for money but I am really blown away by the support so far," he said.
To donate, visit https://bit.ly/2AkbNFP
A graduate of Western Sydney University, Nicola Barton is a news journalist with the Western Weekender, primarily covering crime and politics.