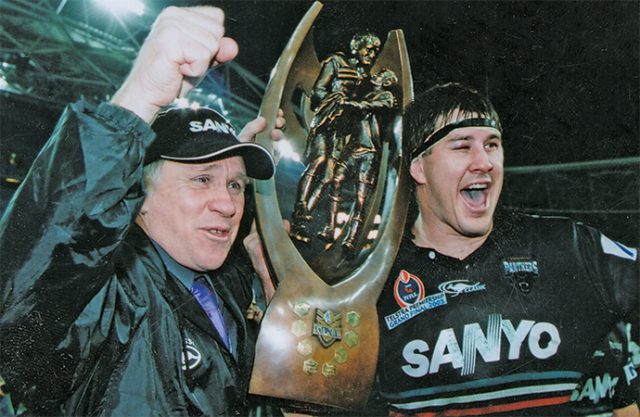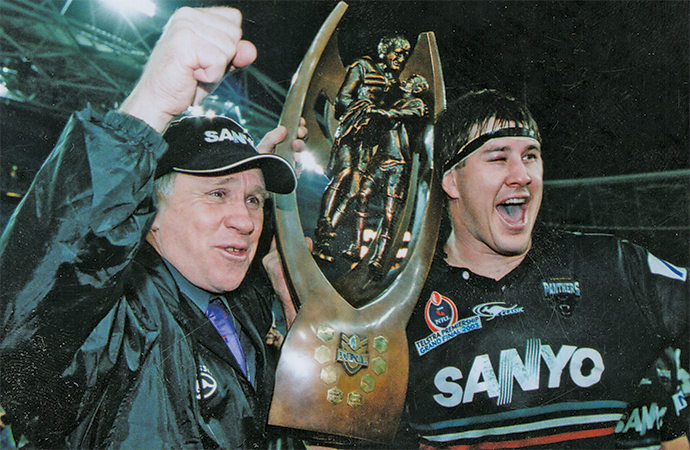 Penrith's 18-6 Grand Final triumph over the Sydney Roosters on October 5, 2003 was one of the most magical days in club history.
Despite finishing the regular season as Minor Premiers, Penrith still went into the decider against the Roosters as underdogs.
It was no surprise, perhaps, given this Penrith side had finished last just two years earlier, and didn't make the Finals in 2002. Many simply didn't believe the Panthers had what it took.
But in front of a crowd of 81,166 at a very wet Telstra Stadium, the 'men in black' were simply superb and produced memories that will last a lifetime.
The game – which is regarded by many as one of the greatest rugby league Grand Finals in history – produced highlight after highlight, with Scott Sattler's remarkable try-saving cover tackle on Roosters winger Todd Byrne still talked about to this day.
Penrith winger Luke Rooney won the hearts of many on the back of his two-try performance, while eventual Clive Churchill Medallist Luke Priddis not only set up two tries that evening but bagged one himself in an heroic effort.
Fan favourite Ryan Girdler, who limped off injured in the second half, summed up the enormity of the occasion on behalf of all Panthers players and supporters.
"We've been here through the bad times, and that's what makes it so special," he said.
Interviewed by Channel Nine's Andrew Voss as the siren sounded in the background, coach John Lang declared: "I just hope I don't wake up tomorrow and it's still Sunday".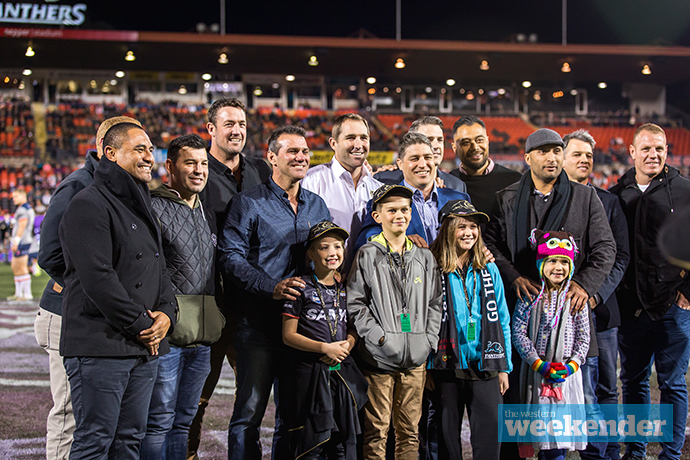 Penrith partied for days following the club's second Grand Final win, and thousands turned out on November 28 to celebrate one last time with a victory parade through the city's streets.
Priddo's moment of magic
To go right or left? That was the question champion Panthers hooker Luke Priddis pondered before he put winger Luke Rooney over for his second Grand Final try, sealing Penrith its first NRL Premiership since 1991.
With his side leading the Roosters 12-6 and the clock winding down, Penrith were on the attack 11 metres out from the try-line.
Priddis, fresh from scoring his own try just minutes earlier, is at dummy-half following a sensational charge from prop Martin Lang.
He turns his head right and sees his halfback and skipper, Craig Gower, in prime position for a field goal directly in front of the posts.
Instead Priddis had another, perhaps riskier, idea – completely fooling the Roosters and his very own teammates in the process.
He picked the ball up, scampered to his left before throwing the perfect cut out pass to Rooney on the wing for the match-winner.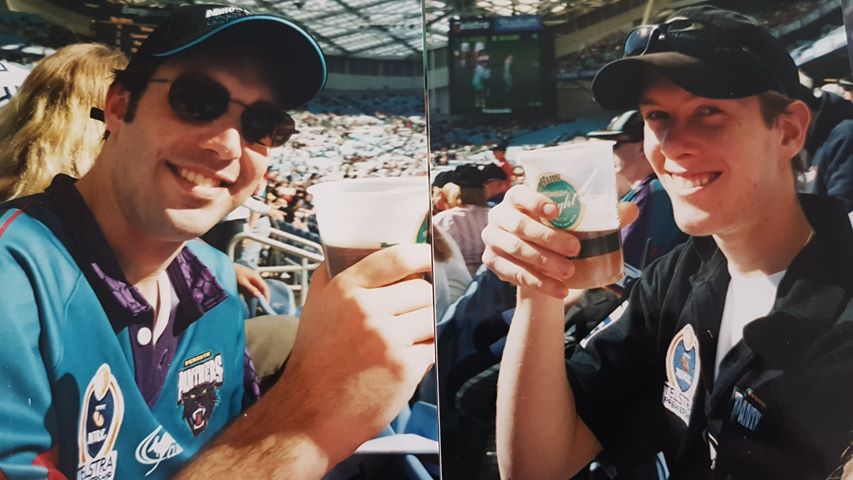 Speaking with the Weekender nearly 17 years later, Priddis said his decision to go left instead of right could've backfired immensely but he's relieved it didn't.
"I was probably the only one that knew I was going to make that play. We were setting up for the field goal but I saw the opportunity and took it," he said.
"I'd formed a strong partnership with Roons (Luke Rooney) all season. The blokes on the short-side always knew their role when I was the hooker – they were trained to stay aware."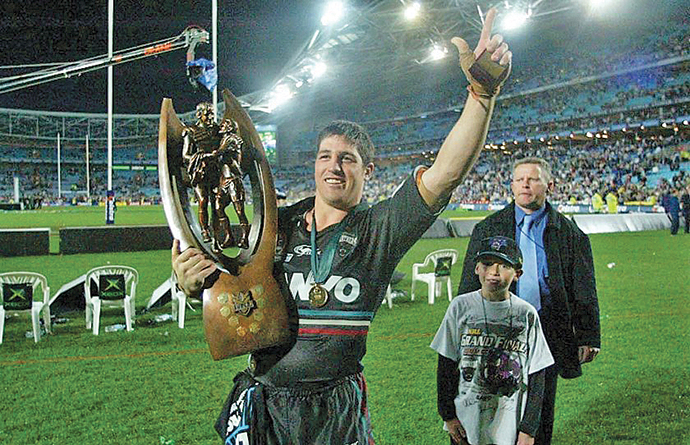 Less than a minute before Rooney's second try, Gower attempted a field goal from 30 metres out but it was charged down by Roosters forward Mick Crocker.
When Penrith retrieved the ball back, Priddis contemplated going to Gower for a second shot at goal.
"Gowie was practicing field goals all week at training and never really hit one, so I wasn't confident he was going to put it over," he laughed.
"I'm sure if I passed it to him he may have slotted it, I guess we'll never know. I still think mine was the bigger percentage play."
Priddis would go on to win the Clive Churchill Medal for his incredible performance – the only hooker in rugby league history to win the coveted award.
The now 43-year-old said his instincts well and truly paid off that night.
"I suppose there's too many players these days that don't take their own instincts into the play and get very robotic," he said.
"When you make the call and get it right, you get all the glory. If you don't, you cop the flack."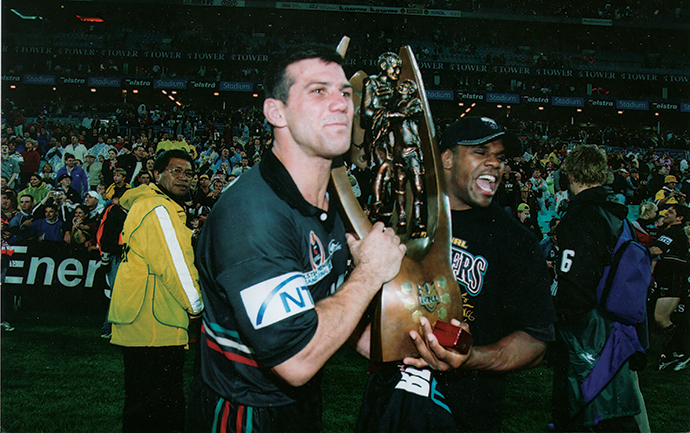 So, what was Gower thinking when Priddis chose to go left instead of right?
"Don't worry I wanted to give him a huge spray but that's the thing about the game – you come up with the right plays at the right time and you take your opportunities," Gower said.
How a local bus driver joined the celebrations
Just when you thought you knew everything there was to know about the 2003 NRL Grand Final… think again.
Premiership-winning captain and Panthers legend Craig Gower has revealed an incredible tale about how he and his champion teammates convinced a local bus driver to change his route, to help get them to a fan meet and greet the next day.
Following Penrith's 18-6 triumph over the Sydney Roosters on Sunday, October 5, players returned to Panthers Leagues Club as heroes later that night with around 10,000 people cramming in to celebrate with the team.
Ryan Girdler shrugged off his calf injury from a few hours earlier and was spotted crowd surfing, while ecstatic supporters were climbing over furniture and each other just to get a glimpse of the players.
But did you know there was an after party after the after party?
"Following the celebrations at the club we didn't go to bed, we ended back up at my mate's house in Werrington – there were about 60 blokes back there," Gower told the Weekender.
"The club gave us some alcohol to take with us because they didn't want us going all crazy inside the club."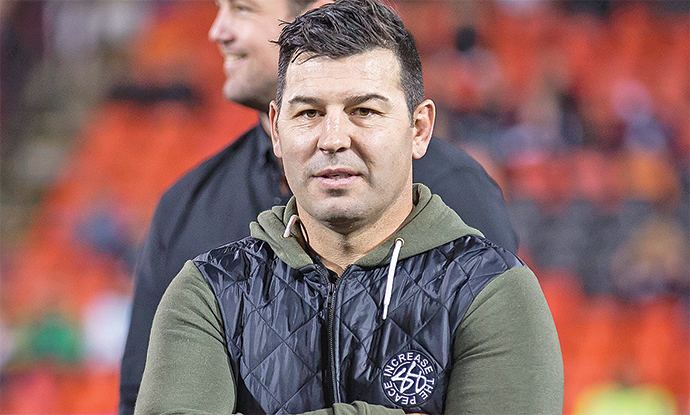 The next morning (or was it?) was when things got really interesting for Gower, his bleary-eyed teammates and a local bus driver.
We'll let Gower take things from here.
"The next morning we were on Greenbank Drive in Werrington when we hailed a Westbus down," he revealed.
"This bus was en route going to Werrington Station and I said to the bus driver 'you've got to take us to the pub, we're running late'. He said 'I can't, I'm en route'. I said to him 'mate you'll be right I promise you, you won't lose your job'.
"So, we all got on the bus – the whole team – and he drove us back up to the Pioneer pub before we had to go to the ground to meet all the fans."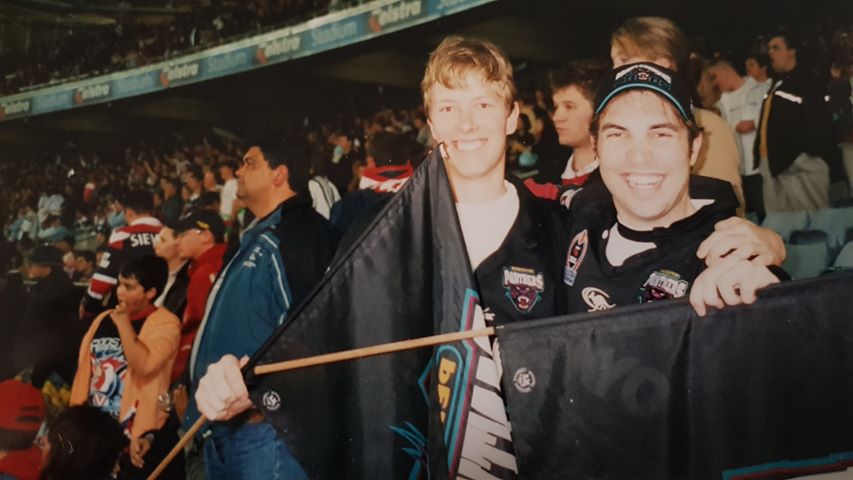 Gower, who was 25 at the time and sporting a busted eye from the game, said the team weren't charged a fare and there were no other passengers on board.
"We didn't have to pay, we all just jumped on. The driver was a champion bloke," he said.
"There was no one on the bus at the time so it worked out well. The driver said 'OK boys, let's go'. It was pretty cool.
"I don't know if the driver knew who we were, but he was just a Good Samaritan that looked after us."
However, post Grand Final celebrations may have gone on a bit longer than the now 42-year-old can recall because keen-eyed fans would remember that the meet and greet at Penrith Stadium actually took place on Tuesday, October 7 and not the next day (Monday, October 6) like Gower thought.
But he helped deliver Penrith its second NRL Premiership, so we'll let him get away with that one.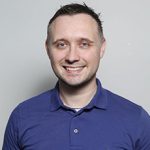 Nathan Taylor is the Weekender's Deputy Editor and Senior Sports Writer. He also compiles the weekly Chatter on the Box TV column. Nathan is an award-winning journalist, who has worked at the Weekender for nearly a decade.