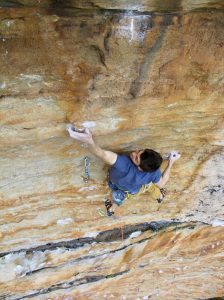 Growing up with a love for sports and the outdoors, it was a trip to the local climbing gym at the age of 12 that sparked Tom O'Halloran's fascination and imagination into the world of rock climbing.
The challenge of rock climbing, both physical and mental, is what has driven Tom's love of this extreme outdoor sport.
"You're against yourself and an inanimate object or obstacle when you're climbing," Tom said.
"It's just you, and you need to get better. There's something fun and satisfying about that."
Moving to the Blue Mountains (from Brisbane) in 2011, the epicentre of Australian rock climbing, Tom was able to immerse himself into his craft. The shift to the Mountains life further stimulated the love of climbing and appreciation for the great outdoors, whilst he juggled work, family and fine tuning his skills.
The ability to test himself on some of the most picturesque and difficult climbs in the world and also competing in competitions is motivation enough. The immense self-discipline is worth the reward, according to Tom.
"Sometimes there's a bit of pressure that can creep in and it can feel all a bit overwhelming and a bit hard and you just want to shy away from the uncomfortable stuff. But ultimately that's what keeps you coming back. It's motivating to try and push through those feelings and rise up and take on that challenge. You just always want to be pushing yourself," Tom said.
"On the other side of it, it's just awesome to go out and enjoy nature in such a novel and adventurous way. There's something pretty cool about hanging off the side of a cliff and there's no one else for miles."
With the inclusion of Sport Climbing into the Tokyo Olympics, Tom, along with many others was set to contest qualification for the Australian team in March. The postponement of the Olympic Games, whilst hard to take, provides an opportunity for Tom to further develop his skill set and sharpen his mind for competition. The rollercoaster of emotions – from Sport Climbing being included, to the Games being postponed – has not deterred Tom's aspiration to represent his country on the biggest of stages.
"It would be a dream come true (to represent Australia). It would be incredible to be able to be an Olympian," Tom said.
"To have that opportunity is pretty special."